Chris Ballew at Bumbershoot 2010 in Seattle, WA (09/04/10)


Photo: Drake Lelane
Check out Drake's kid friendly recap of day 1 of Bumbershoot 2010 below:
Bumbershoot Day 1 (09/04/10) – Kids Edition
For Saturday I had the rugrats tagging along, and let me tell you, no matter how sparkling their resumes are, I would never hire a 5 or 3-year old as photographer's assistant ever again. Considering my crew, the photo's subjects for the day were skewed a bit, and the time invested was drastically shortened (they still made it over 6 hours!).
Caspar Babypants
The kids music refuge for Chris Ballew (The Presidents of the United States of America) is the main reason the kids tagged along for the day, and with the boys occupied, I was free to take a lot of photos. Photographers, however, were restricted to one side or the other so as not to block the view of the vertically challenged audience. This is the third time the boys and I have seen CBP and the level of entertainment has grown exponentially with each show. At the first gig, I was greeted to a chorus of "we want Recess Monkey" (the rival local kids band who were on next), during the second performance they began to feign interest, but this time they were officially won over. Throwing in a playful Nirvana cover ("Sliver"), Ballew won over the parents as well.
Hey Marseilles
The FreeYrRadio/Toyota tent is a(n almost) hidden stage where you can see bands performing stripped down sets in an intimate setting, and thanks to a Prius promotion involving lots of costumes and props (for a photo booth built inside car), the kids were once again occupied enough to snap a few photos during the short-but-spirited set.
Justin Townes Earl
Seeing the aptly named offspring of Steve Earle wasn't initially in my plans, but plans went out the window when the boys were added to the crew. JTE was fabulous, and while the kids were tired and ready to go home, the songs soothed them as much as the lollipops I handed out to appease them during the set. It was a short day, but JTE was a great way to end it.
More photos from Day 1 of Bumbershoot 2010 after the jump.
Caspar Babypants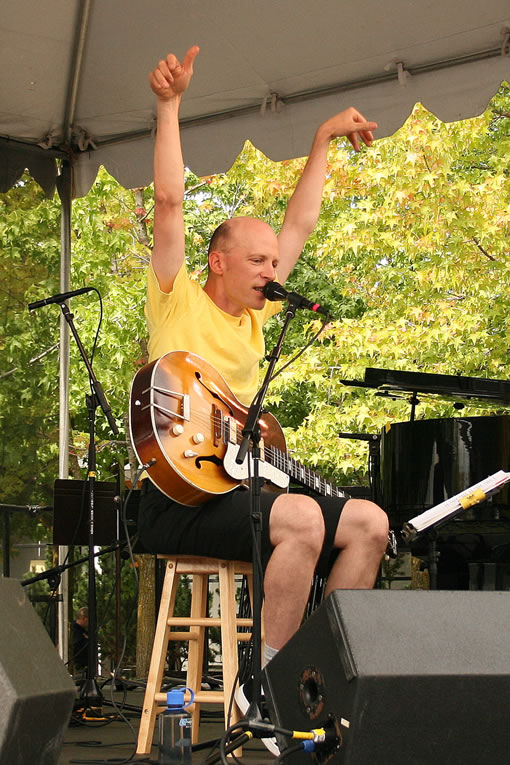 Hey Marseilles

Justin Townes Earle

Graffiti Kids