Laurie Anderson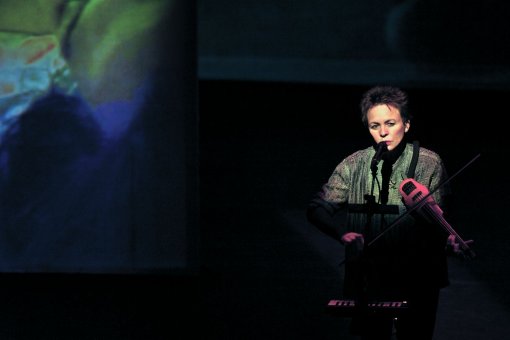 Photo: Leland Brewster
Laurie Anderson is kicking off this year's Next Wave Festival at BAM this week with the New York premiere of Delusion, "a multimedia piece exploring memory, identity, and longing". Commissioned by the Vancouver 2010 Cultural Olympiad, Delusion includes two signature pieces of music and lyrics from Anderson's latest album Homeland, which came out in June on Nonesuch Records.
A phantasmagoric world made up of short plays, her latest work is activated by brooding, deeply affecting music redolent with Tibetan temple horns and Arabic strings, performed by Anderson on electronically enhanced violin with supporting virtuoso musicians. A simultaneously contemplative and whimsical epic about longing, identity, and memory, Delusion invokes both humor and terror, conjuring up elves, mysteries, ghost ships, and dead relatives to spin poetic stories and imagery into gold.

BAM Harvey Theater
90min, no intermission
Sep 21—25, Sep 28—30, Oct 1 & 2 at 7:30pm
Sep 26 & Oct 3 at 3pm
Fill out the contest entry form after the jump to enter to win a pair of free tickets to the show (Sep 28, 29 or 30). Contest ends September 26 at noon, 1 entry per household. If you're not the lucky winner of free tickets, you can use the promo code 12652 to get 25% off tickets to Delusion at BAM ($15, $26.25, $33.75, $45).
Contest entry form and a video after the jump.