The Promise (10/07/10 on HBO)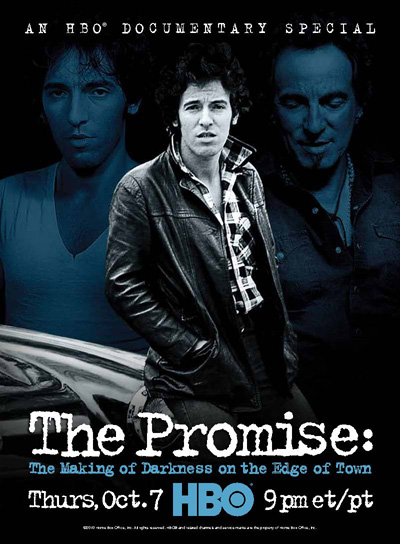 The Promise, a documentary detailing the recording of Bruce Springsteen's fourth album The Darkness on the Edge of Town, premieres tonight (Oct 7) on HBO.
After the success of "Born to Run," [Springsteen] had been kept from recording for a year and a half as a result of a legal battle with a former manager. When he finally got back in the studio in the fall of 1977, after much touring and woodshedding — we see shirtless rehearsals of new songs at his New Jersey farmhouse — he had something different in mind from the Turnpike operas and alley-ballet scores he was famous for, a "music that felt angry and rebellious yet it also felt adult," informed, spiritually if not sonically, by punk rock on the one hand and country music on the other. The very sound of the record, stripped and stark and evocative of "the players fighting for space" (in the words of Chuck Plotkin, who mixed the record) obliges Springsteen's theme of a "life of limits and compromise but also a life of resilience and commitment to life."

The heart of "The Promise," which takes its name from one of the many songs that didn't make the album's final cut, is the black-and-white video footage shot in the studio during those months of recording. We see it in snippets rather than in scenes, but it gives some indication of the tediousness and intensity (and the technical issues) that make up making a record. There is some allusion to creative tensions, but this is more declared than shown — there are no thrown chairs, or petulant ultimatums, or sudden walk-outs — and it's no revelation to learn that the Boss can be a demanding boss. [LA Times]
The Promise: The Darkness On The Edge Of Town Story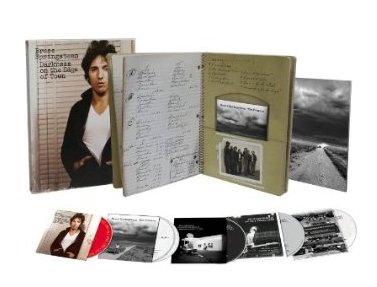 The new deluxe box set of The Promise comes out on Nov 16 in 3 CD/3 DVD, 3 CD/3 Blu-Ray and triple vinyl versions. You can also download two free essays penned by Springsteen on the making of Darkness over here.
Though he has no tour dates currently scheduled, Bruce Springsteen will be appearing at Bob Woodruff's Stand Up For Heroes benefit at on November 3 and the Beacon Theatre.
Watch a teaser video for The Promise after the jump.