Bruce Springsteen and Joe Grushecky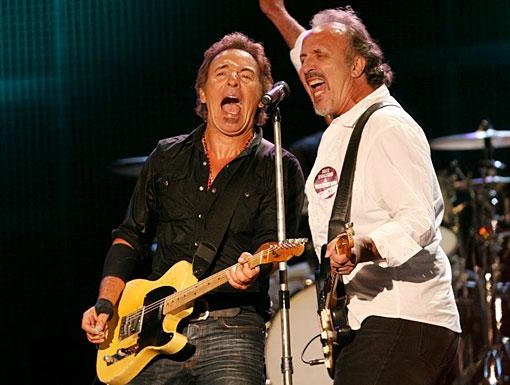 Photo: Joe Grushecky's mySpace
Classic rocker Joe Grushecky is playing a pair of shows on November 4 and 5 with his friend and some time collaborator Bruce Springsteen at the Soldier and Sailors Hall in Pittsburgh, PA (capacity 2,300). Tickets for the shows go on Internet presale on Oct 19, regular on sale begins on Oct 20.
In case you were wondering who Joe Grushecky was, here's an excerpt from his bio (which I suspect hasn't been updated recently).
Joe's first band, the Iron City Houserockers, released their debut album, Love's So Tough in 1979. In Rolling Stone, Greil Marcus wrote "their debut album is strong, passionate and a little desperate. This is hard rock with force, but there's no macho in it. I hope they're around for a long, long time." Rolling Stone Magazine again praised Joe's singing and writing with the Houserockers a year later calling their follow-up effort, Have A Good Time But Get Out Alive, 'a new American classic'. Marcus, writing about the album in the Village Voice said, "Have A Good Time But Get Out Alive is the sort of mainstream rock the mainstream has never been able to stomach. Within its story, rock is just another part of the landscape, a gift that turns into a cheat, a chance to escape, a means of telling the truth, and a way to feel clean when the chance fails, when the truth is revealed as nothing more than what's obvious to everyone." Two other Iron City Houserockers albums were released before the band split in 1983, Blood On The Bricks and Cracking Under Pressure.

With the break up of the Iron City Houserockers Grushecky returned to Pittsburgh where he took a day job as a special education teacher, a position he still holds. Joe spent the years from 1983 to 1989 honing his songwriting craft. In those years he bore witness to the demise of his beloved Steel City as he watched one mill after another shut down and take the jobs of his friends and family with them. In 1984, Grushecky released a fiery single, "Good Bye Steeltown", but it would take another five more years for him to fully re-emerge with his first solo post Houserockers album, 1989's Rock And Real which was followed with Swimming With the Sharks , both on Rounder Records, and then End Of The Century on Razor & Tie.

In 1995, Joe began his now decade-long collaboration with another hard-rocking storyteller, Bruce Springsteen. The first fruits of their labor, American Babylon, was a Grushecky cum Houserockers album produced by Springsteen featuring two co-written songs as well as guest vocal and guitar contributions; Bruce wound up doing stint as the Houserockers' lead guitarist on a tour which celebrated the album's release. [JoeGruschecky.ca]
More Joe Grushecky tour dates after the jump.
Joe Grushecky 2010 Tour Dates
Oct 23, 2010
Cafe Supreme
Irwin, PA
Oct 30, 2010
Songwriter Circle NJ
The Strand Theater
Lakewood, NJ 08701
Oct 31, 2010
Concerts at Drew's House
Drew's House
Ringwood, NJ
Nov 04, 2010
Joe Grushecky & the Houserockers w/ Bruce Springsteen
Soldiers and Sailors Memorial Hall
Pittsburgh, PA
Nov 05, 2010
Joe Grushecky & the Houserockers w/ Bruce Springsteen
Soldiers and Sailors Memorial Hall
Pittsburgh, PA
Nov 12, 2010
Light of Day Canada 4/Niagara Falls
Greg Frewin Theatre
Niagara Falls, ON
Nov 13, 2010
Light of Day Canada 4/Toronto
Cadillac Lounge
Toronto, ON
Nov 27, 2010
Silk's
The Meadows Racetrack and Casino
Washington, PA