Keith Richards Life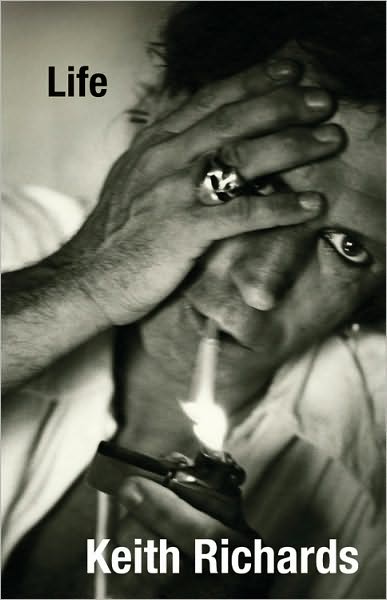 Enter To Win A Copy of Life!
Unless you've been living under a rock, you probably already heard that Keith Richards released his "tell all" autobiography this week, simply entitled Life. In the 576 page tome, Richards details his well documented drug use (and abuse), including his near career ending arrest for possession of 22 grams of heroin in Toronto in 1977. It's not all drug stories though, (though he does get into a lot of detail on that topic), Richards also expounds on his life, upbringing and tales of what it's like to be a part of one of the most famous rock'n roll bands in history.
While the drug revelations in Life are somewhat shocking in their detail, it's the gossip about the lives of his band mates that have grabbed most of the headlines since the book's release. Apparently, when it came to writing this book, Richards didn't feel the need to spare anyone's feelings. In particular, Keith doesn't pull any punches when describing his relationship with Stones frontman Mick Jagger. Amongst other things, Richards accuses of Jagger of:
…credit hogging, social climbing, egomania, insecurity, unethical business behavior and — here comes a Freudian's holiday for anyone who's ever watched the bare-chested young Jagger and Richards vamp it up together — uncertain sexual identity. There's also a cool condescension about Mr. Jagger's contributions to the duo's songwriting. And a nasty nickname or two, like "Disco Boy." [NYTimes.com]
If you'd like to hear Keith talk some more about his new book, maybe you can score some tickets on Craigslist to see him tonight (Oct 29) in conversation with Anthony DeCurtis at the Celeste Bartos Forum at the New York Public Library. (Unfortunately, the event is sold out and will not be live streamed.)
Though this week is really about Keith, there was another lower profile Stones release earlier this month; Ladies and Gentleman: The Rolling Stones came out on DVD and Blu-Ray on October 12, 2010. This home video release marks the first time the concert film has been available since its original limited theatrical run in 1974.
As far as Rolling Stones concert films go, Ladies and Gentlemen The Rolling Stones… doesn't have the elemental status of the Maysles Brothers' dark verite Gimme Shelter. It lacks the notoriety of Robert Frank's unreleased but often bootlegged Cocksucker Blues. It has no marquee director like Hal Ashby (1983's Let's Spend the Night Together) or Martin Scorsese (2008's Shine A Light). It's been on ice for the entire home entertainment era, but it merits a place among the better known classics because you simply will not find the Rolling Stones looking or sounding any better than they do here. Director Rollin Binzer spent over a year editing footage intended for the Frank film.
…
This is straight music. The Stones doing what made them the greatest rock 'n' roll band in the world." The band was defending that title in the summer of '72. They'd been playing for a full decade, survived the death of their founder, Brian Jones, and the fiasco of Altamont. They'd also outlived the Beatles, their chief rivals for rock's alpha group status. [Vanity Fair]
Last but not least, The Rolling Stones are releasing a pair of vinyl box sets aimed at the well heeled collector just in time for the gift giving season. The Rolling Stones 1964-1969 Vinyl Box Set (13 LPs, $370.49) and Rolling Stones 1971-2005 Vinyl Box Set (14 LPs, $398.99) will be released on November 22, 2010 in limited quantities.
If you'd like to win your very own copy of Keith Richards' Life, fill out the contest entry form after the jump. Contest ends on Friday, November 5 at midnight, 1 entry per household, US residents only.
Note: Following me on Twitter and/or tweeting about the contest may increase your odds of winning!