Jon Auer of The Posies at the Showbox @ The Market (12/11/10)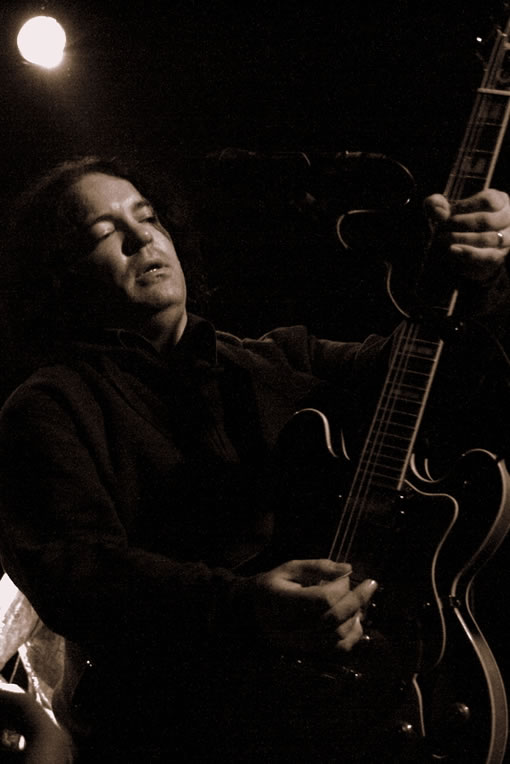 Words and Photos: Drake Lelane
Given the annual end of the year new release famine, Drake decided to put on his show reviewer/photographer hat for the recent Posies/Brendan Benson show at The Showbox at The Market in Seattle. – ed.
The Posies and Brendan Benson at The Showbox @ The Market (12/11/10)
by Drake Lelane
I'm still picking up the pieces from the flood that greeted me at home Saturday night, but there's no need to clean up after the flood of harmonies that rained on us at the Showbox earlier in the evening. Saturday marked the final night of the tour for this all-star power pop lineup of Brendan Benson and The Posies. Besides being the final night, it was also a homecoming for The Posies, so Jon Auer and Ken Stringfellow were especially on fire, and pulling double-duty as half of Brendan Benson's band, they had a lot of stage time to for their musical theatrics.
The witty banter and in-jokes between Ken and Jon sometimes had the stoic Benson shaking his head (as if to say "ah shucks, Ken!"), but when the songs were playing, the three (along with Benson's drummer/neighbor Brad Pemberton) played like they'd been singing and playing together for years. Benson's set drew a lot from the great songs of the past, reminding me what a shame it is that more folks don't know about his pre-Raconteurs work. From the opener of "Folk Singer" to "Spit it Out" and "Tiny Spark" (and, my God yes, "Crosseyed"!) there are so many great songs in his quiver to draw from. When his set ended, Ken and Jon conferred briefly and negotiated another song to end on, as they rightly surmised that "A Whole Lot Better," from 2009's My Old, Familiar Friend, absolutely needed to be played. For each and every song, Ken and Jon added punch and incredible background harmonies, adding even more life to Benson's already exquisite songcraft. I really do hope they revisit this connection again in the future so we can find a way for more folks to get a chance to hear the magic.
This being Seattle, The Posies got to end the night, and while relying heavily on the latest (and near greatest) Blood/Candy – seven songs, there was plenty of room for nostalgia and songs rarely heard (for instance, the entirety of the 1996 UK single for "Please Return It," which includes the b-sides "Sad to be Aware" and "Terrorize"). Despite playing a full set with Benson, Jon & Ken came out white hot, moving all over the stage in quick dashes and leaps galore. All eras were well represented and unless your night hinged upon hearing something from 1989's Failure or 2005's Every Kind of Light, Posies fans had to be thrilled at the song choices. The encore of "Definite Door" running into "Burn and Shine," complete with Auer's guitar strings no longer being able to withstand the onslaught, gave me flashbacks of performances from the mid-90s, when angst was in full bloom*. In a year filled with 90's nostalgia, leave it to The Posies not to just revisit fondly, but to tear it up and re-arrange it anew.
*You have to love YouTube for being able to hunt down the past and present it all again. Check out this video circa 1996 of The Posies destroying their equipment after playing "Definite Door" for the UK's "The Word" on Channel 4.
Setlists, more pictures of Brendan Benson and The Posies, and a video for Brendan Benson's "Spit It Out" after the jump.
The Posies at the Showbox @ The Market (12/11/10)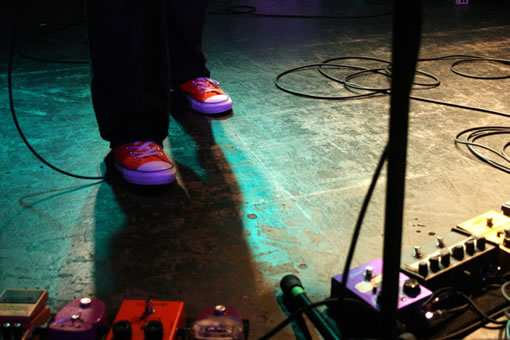 Brendan Benson at the Showbox @ The Market (12/11/10)

Brendan Benson and The Posies

The Posies Setlist for December 11, 2010 (Seattle, WA)
"Plastic Paperbacks" (Blood/Candy)
"Flavor of the Month" (Frosting on the Beater)
"Please Return It" (Amazing Disgrace)
"Sad To Be Aware" (b-side to "Please Return It")
"Licences To Hide" (Blood/Candy)
"So Caroline" (Blood/Candy)
"Golden Blunders" (Dear 23)
"Solar Sister" (Frosting on the Beater)
"Glitter Prize" (Blood/Candy)
"For The Ashes" (Blood/Candy)
"Enewetak" (Blood/Candy)
"Throwaway" (Amazing Disgrace)
"She's Coming Down Again!" (Blood/Candy)
"Dream All Day" (Frosting on the Beater)
"Terrorized" (b-side to "Please Return It")
Encore
"Definite Door" (Frosting on the Beater)
"Burn and Shine" (Frosting on the Beater)
"Beautiful One" (Success)
Brendan Benson Setlist for December 11, 2010 (Seattle, WA)
Folk Singer (Lapalco)
Spit it Out (The Alternative to Love)
Sittin' Pretty (One Mississippi)
Good To Me (Lapalco)
Tiny Spark (Lapalco)
Eyes On The Horizon (A Whole Lot Better)
Crosseyed (Sittin' Pretty)
What I'm Looking for (The Alternative to Love)
Alternative To Love (The Alternative to Love)
Cold Hands (Warm Heart) (The Alternative to Love)
A Whole Lot Better (A Whole Lot Better)