Small Sins at Bowery Ballroom (10/23/06)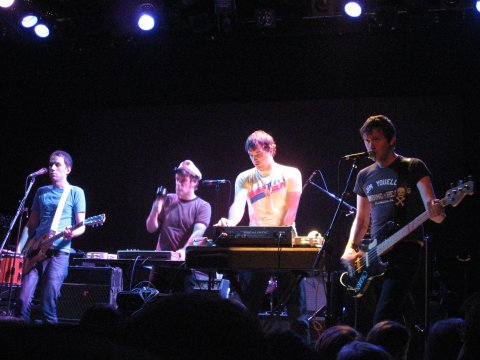 Download: Small Sins – "Pot Calls Kettle Black" (mp3)
Thomas D'Arcy the principal singer, songwriter, musician, producer behind the band Small Sins is back at it again with a new record, Pot Calls Kettle Black and a long awaited spring US tour which includes two stops in NYC. Tickets go on sale soon for Small Sins March 10, 2011 show at Santos Party House and their March 11, 2011 show at The Rock Shop. If you thought Small Sins had broken up (with himself) after 2007's Mood Swings, you weren't the only one… turns out Thom never really stopped working though. In his "Song of the Week" blog, he explains a little bit about what happened to his solo project/band after the release of their last album:
I suppose the most common interview question I'm going to get, and have already started getting, is: 'Where have you been for the last two years?' And rightly so, especially since I had been so prolific up to that point. In the first two years of Small Sins, I recorded two albums, two EPs, did countless remixes, played in other people's bands, and toured both Canada and the U.S. several times… Then nothing.

There are several reasons for this 'Dark Period.' We had just been dropped from our first-ever major label deal and that felt bad. Music I made had been rejected for various films and advertisements, and that felt bad too. Various individuals in the band became busy with other projects, and the money wasn't coming in to grease the wheels anymore. I didn't stop recording, but I certainly slowed down. Even in this slow state, I actually made a whole new record, but something about it didn't feel right, so I never released it. That's one of the reasons it's easy to give you all these exclusive 'songs of the week.' There's an overflow of old material that was never released, but that I still think people should hear.

But regardless of any contributing external influences to this slowdown, the central one was a lack of inspiration. I just didn't feel like writing anymore. In hindsight I should have stopped altogether for a little while, but all of the structure in my life sort of depends on the work that I do in my studio, so I kept going. There are songs that I think are great from that period, but there was a lot of crap too. [SmallSinsMusic.com]
As this quote indicates, Thom has been releasing an exclusive new track on his blog every week since August of 2010. I'm not sure when the series will come to an end, but you can stream everything released up to now at the Small Sins Soundcloud page.
More Small Sins 2011 tour dates after the jump.
Small Sins – Pot Calls Kettle Black

Small Sins 2011 Tour Dates
03/02/2011 Chicago, Illinois Schuba's
03/03/2011 Grand Rapids, MI Founders Brewery
03/04/2011 Toronto, Ontario The Horseshoe Tavern
03/05/2011 Montreal, PQ Casa Del Popolo
03/07/2011 Halifax, NS The Seahorse Tavern
03/10/2011 New York, NY Santo's Party House
03/11/2011 Brooklyn, NY The Rock Shop
03/12/2011 Philadelphia, PA Kung Fu Necktie
03/13/2011 Washington, DC The Red Palace
03/14/2011 Knoxville, TN TBA
03/16/2011 Austin, TX TBA
03/17/2011 Austin, TX TBA
03/18/2011 Austin, TX TBA
03/19/2011 Austin, TX TBA