Arcade Fire Win Album of The Year at 53rd Annual Grammys! (02/13/11)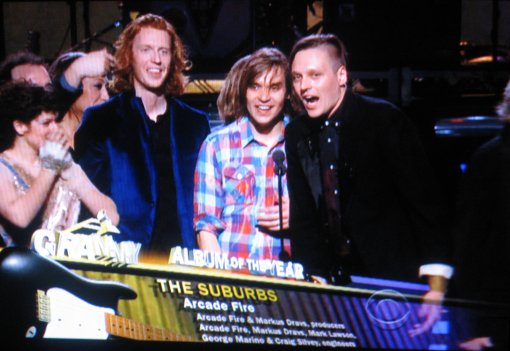 Holy Shit! OK, never in a million years would I have expected the Arcade Fire to win a Grammy for Album of The Year. Sure, it was a number one record the week it came out, but its sales have paled in comparison to heavy hitters like Eminem, Lady Gaga and Lady Antebellum, all of whom have sold in the millions. While The Suburbs was a critically acclaimed record, it's no secret that the Grammys are all about sales, not art, so this makes their win even more astonishing. Congrats to the band, the team at Merge Records, and to all Canadians, who I'm sure have all just taken to the streets as if their respective home teams just won the Stanley Cup. Here are the rest of the televised winners, in case you missed the show and don't know how to use Google.
Album of the Year: The Suburbs, Arcade Fire
Record of the Year: "Need You Now," Lady Antebellum
Song of the Year: "Need You Now," Lady Antebellum
New Artist: Esperanza Spalding
Rap/Sung Collaboration: Jay-Z & Alicia Keys, "Empire State of Mind," Blueprint 3
Rock Album: The Resistance, Muse
Pop Vocal Album: The Fame Monster, Lady Gaga
Country Album: Need You Now, Lady Antebellum
Electronic/Dance Album: La Roux, La Roux
Pop Performance by a Duo or Group With Vocals: Train, "Hey, Soul Sister (Live)"
Female Pop Vocal Performance: Lady Gaga, "Bad Romance"
Male Pop Vocal Performance: Bruno Mars, "Just The Way You Are"
You can check the rest of last night's award winners over here.
PS Personally I thought Recovery was a lock for the big award, but Gaga really looked kind of pissed under that mask.