NYC Comedy Calendar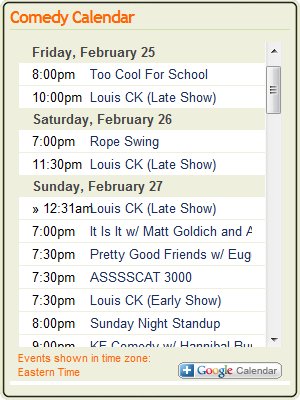 Hey, you may have noticed that I added a new "NYC Comedy Calendar" on the right hand side of the page (way down underneath the upcoming events calendar). It's a google calendar so feel free to link to it or embed it if you like.
Now that I have your attention, I thought I would mention a few other recent comedy show announcements that have come across my inbox.
Sarah Silverman is doing some touring starting next month, she hasn't announced an NYC show yet, but I kind of expect something to be announced soon.
Sarah Silverman Tour Dates
03/25/11 The Fillmore Detroit, MI
03/26/11 The Chicago Theatre Chicago, IL
04/07/11 Arlene Schnitzer Concert Hall Portland, OR
04/09/11 MontBleu Resort Casino & Spa Stateline, NV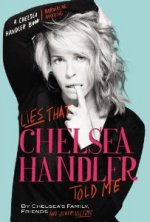 Chelsea Handler
She's not really my cup of tea, but last time she was here Chelsea Handler sold out like five shows at Radio City, so I figured I'd mention her new tour. In support of her new book, Lies Chelsea Handler Told Me (May 10, 2011), Chelsea and friends will be stopping by NYC for one night (but two shows) at the comparatively tiny Beacon Theatre on May 21, 2011. Tickets for both shows are still available, but probably not for long.
Larry King
After a half century long career in radio and television, noted raconteur and multiple divorcee, Larry King is turning to hand comedy. Like Ms. Silverman, Mr. King also hasn't booked an NYC date as of yet, but you can catch him at the not too far Westbury Theatre in Westbury, NY if you're curious.
Larry King Tour Dates
04/14/11 Warner Theatre Torrington, CT
04/16/11 NYCB Theatre at Westbury, Westbury, NY
04/15/11 F. M. Kirby Center, Wilkes-Barre, PA
05/13/11 Hippodrome at France-Merrick Performing Arts Center, Baltimore, MD
05/14/11 Music Box at The Borgata, Atlantic City, NJ
06/10/11 Silver Legacy Casino, Reno, NV
At the opposite end of the comedy spectrum (but really what wouldn't be opposite Larry King), the folks at the Gramercy Theatre are putting on a few interesting comedy shows in the near future, many of which were just announced. (I was going to say a sentence about each one, but I figured a list was probably easier for both of us.)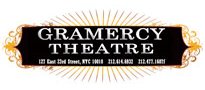 Comedy at The Gramercy Theatre
04/16 Upright Citizens Brigade Tourco 6:00 PM (On Sale Friday, 02/25/11 at noon)
04/16 The Chris Gethard Show 9:00 PM (On Sale Friday, 02/25/11 at noon)
04/20 The Marijuana-Logues (On Sale Friday, 02/25/11 at noon)
05/04 Tim Minchin
05/05 Tim Minchin
05/20 Aaron Karo (On Sale Friday, 02/25/11 at noon)
05/21 The Benson Interruption Live Podcast w/ Special Guests
Comedy On Broadway
Sticking with the theatre theme, a few faces normally known for comedy are currently starring or soon to be making their debuts on the Great White Way.
Louis CK On Broadway
Well, he's not on Broadway in the same sense as everyone above, but Louis CK is currently in the midst on a 9 show run at Caroline's on Broadway. His final show is on Sunday, Febraury 27 (late night Saturday), some tickets may still be available on ticketmaster.com.