The Kills at Stubb's (03/18/11)


Photos: Jon Klemm
Like TV On The Radio (whom they opened for at the Spin party at Stubb's), The Kills used SXSW to showcase material off of their new album Blood Pressures, which came out this past Tuesday on Domino Records.
Sonically, Blood Pressures retreats from Midnight Boom's dancefloor directives and energized, in-the-pocket pop. The new album feels at once a return to the Kills' beatbox-blues origins as well an attempt to broaden their palette with more sensitive, intimate turns. Notwithstanding the motorik garage-rock of "Heart Is a Beating Drum" and brash, big-beat stomp "Nail in My Coffin", this album will present Hince and Mosshart with fewer opportunities to stare each other down suggestively on stage in predatory, fuck-or-fight fashion. Whether it's the swampy reggae groove of "Satellite", the clock-punching blues-rock prowl "Damned if She Do", or the mid-album tandem of Hince's Lennon-esque reverie "Wild Charms" and Mosshart's slow-simmering answer track "DNA", there's an overarching sense of restraint and resignation that's disappointing in light of how fearless and adrenalized the band sounded on Midnight Boom. [Pitchfork]
The Kills are currently on tour in support of Blood Pressures and in that regard, they'll be stopping by Terminal 5 on April 29 with Cold Cave and The Entrance Band. Unfortunately, tickets for that show are already sold out! (Though I would imagine it wouldn't be too hard to score one outside the show or on Craiglist.)
More pictures of The Kills from SXSW, video of the single "Satellite" and 2011 tour dates after the jump.
The Kills at Stubb's by Jon Klemm (03/18/11)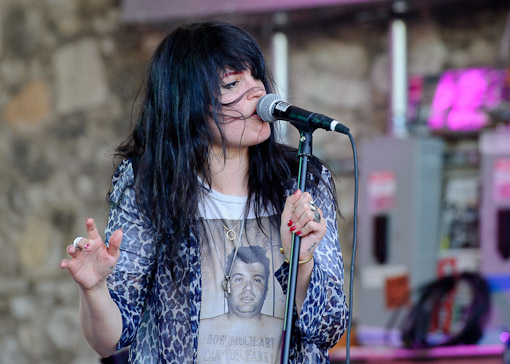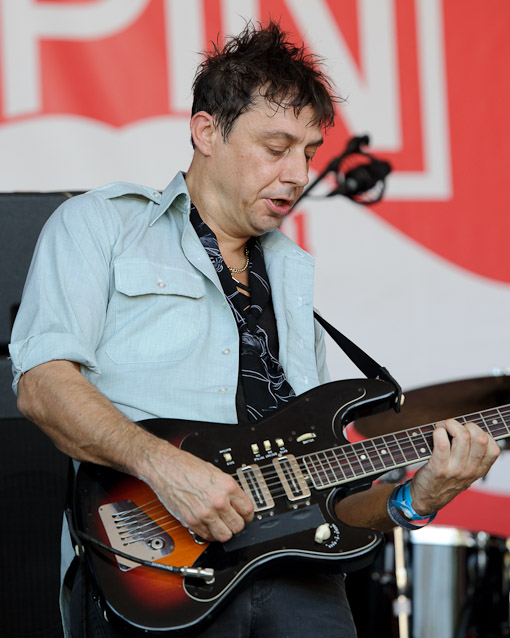 The Kills 2011 Tour Dates
04/08 Huxleys. Berlin, Germany
04/15 House of Blues. San Diego, CA
04/16 Coachella. Indio, CA
04/19 Granada Theater. Dallas, TX
04/20 La Zona Rosa. Austin, TX
04/22 Cannery Ballroom. Nashville, TN
04/23 The Masquerade. Atlanta, GA
04/24 9:30 Club. Washington, DC
04/26 Royale Boston. Boston, MA
04/27 Theatre of the Living Arts. Philadelphia, PA
04/29 Terminal 5. New York, NY
04/30 l'Olympia. Montreal, QUE
05/01 Sound Academy. Toronto, ON
05/03 The Majestic Theatre. Detroit, MI
05/04 Vic Theatre. Chicago, IL
05/05 First Avenue. Minneapolis, MN
05/08 Commodore Ballroom. Vancouver, BC
05/09 Showbox. Seattle, WA
05/10 Wonder Ballroom. Portland, OR
05/11 The Fillmore. San Francisco, CA
05/13 The Music Box. Los Angeles, CA
05/14 The Fox Theater. Pomona, CA
05/27 Central Methodist Hall. Manchester, UK
05/28 Evolution Festival. Newcastle, UK
05/29 ABC. Glasgow, UK
05/31 Met Uni. Leeds, UK
06/01 Academy. Oxford, UK
06/02 Anson Rooms. Bristol, UK
06/03 Roundhouse. London, UK
06/018 Hurricane Festival. Scheessel, Germany
06/19 Southside Festival. Neuhausen, Germany
08/26 Rock En Seine. Domaine national de Saint-Cloud, France