Givers at The FADER Fort at SXSW (03/17/11)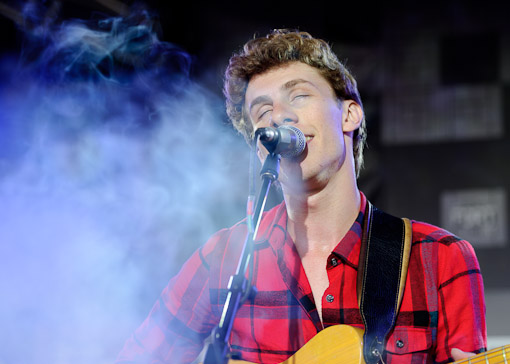 Photo: Jon Klemm
After the mammoth success of Phoenix and Mumford & Sons, perhaps the folks at Glassnote Records are hoping lightning can strike thrice with In Light, the forthcoming debut LP from Lafayette, LA's GIVERS.
GIVERS' debut album – In Light – set for release on Glassnote Entertainment Group on June 7th – is the most rewarding and joyous album you'll hear all year. The Lafayette, Louisiana-based five-piece are nothing short of ebullient, tying together ecstatic ribbons of melodies into songs that leave you no choice but to smile upon hearing them.

In understanding GIVERS, it's helpful to think of a constellation, a configuration of points that, when placed in succession, led to the band's brilliant debut. The metaphor proves particularly useful given the name of their album – In Light is a collection filled with uncontainable brightness, buoyed by constantly evolving rhythms, warmed by spangling guitars, and illuminated by the melodic altruism that is the band's mission statement. Mixed by Ben Allen (Animal Collective, Deerhunter, Cee-Lo) as well as Chris Coady (Beach House, Grizzly Bear) and produced by members of the band along with friend and engineer Korey Richey, In Light is as complex as it is enjoyable. It is a record that is as unique as the sounds of the state in which the band lives, and GIVERS themselves. [Glassnotemusic.blogspot.com]
GIVERS officially kick off their spring tour in the middle of May, but they'll be playing a hometown show this Saturday at the Festival International de Louisiane in Lafayette, LA. They'll be in NYC for their Bowery Ballroom headlining debut (I'm pretty sure) on Jun 16 with LA's excellent Pepper Rabbit and oddly named fellow Louisianians Caddywhompus (Buy Tickets).
More pictures of Givers from SXSW and 2011 tour dates after the jump.
Givers 2011 Tour Dates
APR 30 Parc International Lafayette, LA
MAY 14 Local 506 Chapel Hill, NC
MAY 21 NORTHSTAR Philadelphia, PA
MAY 22 Club Cafe Pittsburgh, PA
MAY 23 Beachland Tavern Cleveland, OH
May 25 The Riot Room, Kansas City, MO
MAY 27 Larimer Lounge Denver, CO
MAY 30 Sasquatch Festival George, WA
JUN 01 Rickshaw Stop San Francisco, CA
JUN 02 Bootleg Theater Los Angeles, CA
JUN 04 Trunk Space Phoenix, AZ
JUN 07 The Loft Dallas, TX
JUN 08 Antones Austin, TX
JUN 10 Bonnarroo MANCHESTER, TNJUN 14 Rock and Roll Hotel Washington, DC
JUN 16 Bowery Ballroom New York, NY
JUN 19 THE MIDDLE EAST Cambridge, MA
JUN 20 Il Motore Montréal, QC
JUN 21 The Garrison Toronto, ON
JUN 23 The Basement Columbus, OH
JUN 24 Schuba's Chicago, IL
JUN 26 7th St Entry Minneapolis, MN
JUN 27 Riot Room Kansas City, MO
JUL 02 Spanish Moon Baton Rouge, LA
Touring w/ Pepper Rabbit, Family of the Year, 1,2,3 and Caddywhompus
Givers at The FADER Fort at SXSW by Jon Klemm