Just in time for this week's new releases, last week's Drake's Take has reviews of the two big records from both coasts. -ed.
Drake's Take: New Releases 05.03.11
We have a saying in Seattle that you may have heard before: "April showers bring May showers," or, at the very least, flowers that are drenched. Much like it was in April, it's raining new releases this week, with Seattle faves Fleet Foxes and the return of Beastie Boys heading the list. Also of note this week are new releases from Architecture in Helsinki, Super Furry Animals' Gruff Rhys, Small Sins, Priscilla Ahn, Cheeseburger and a live album from Brandi Carlile
Playlist: New Releases 05.03.11
---
Fleet Foxes – Helplessness Blues
Stream / Purchase [mp3]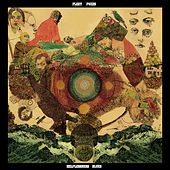 Since spreading through the indie rock landscape like a bandmate's beard, Fleet Foxes' frontman Robin Pecknold has proven himself to be a refreshingly earnest voice (and commenter) within the musical community. To that end, with their excellent sophomore effort, Helplessness Blues, Pecknold is far less obtuse in his lyrics, making a more straightforward approach. "So now I am older/Than my mother and father/When they had their daughter/Now what does that say about me?", begins Pecknold on the opener ("Montezuma"), setting the stage for the rest of the album's philosophical ponderings. Keeping the vocal harmonies front and center, Helplessness Blues doesn't stray too far musically from what worked before, adding a few instruments here and there (zithers, tamburas, Tibetan singing bowls, a Moog!), and trying out more adventurous breaks in the songs. Take the gorgeous title track, which breaks out of formula with an epic ending refrain of "If I had an orchard, I'd work 'til I'm sore," connecting with the everyman, only to hedge his bets by ending with "Someday I'll be like the man on the screen." It's the album's centerpiece and yet manages to sound unlike anything else on the release. Another highlight is "The Shrine / An Argument" which uses it's 8 plus minutes to encapsulate a breakup, likely Pecknold's that the painful making of the album rumored to have caused. Great beauty often emerges from pain, so our ears give thanks to Pecknold's bad fortune.
Download: "Helplessness Blues" [mp3]
---
Beastie Boys – Hot Sauce Committee Part Two
Stream / Purchase [mp3]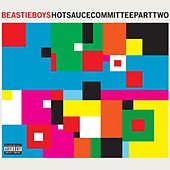 Hot Sauce Committee was supposed to be a 2009 release, but thanks to Adam Yauch's battle with cancer, we had to make do with the Nas guested "Too Many Rappers," which managed to wet many a whistle. With Yauch in remission, the Beasties scrapped the two release idea with the majority of Part 1's tracks intact. As hinted at, HSCP2 is a return to the sound of the Beasties at their commercial peak, specifically 1992's Check Your Head and 1994's Ill Communication, sampling their own instruments and maintaining a level of controlled silliness. It's the trio back to not caring what you think of them, and it's welcome after the hard to digest To the 5 Burroughs. Album highlight is the Santigold-led ska stomp "Don't Play No Game That I Can't Win."
---
More on the radar (and in the mp3 player) this week:
Architecture in Helsinki – Moment Bends / Free AOL Album Stream
Gruff Rhys – Hotel Shampoo
Small Sins – Pot Calls Kettle Black
Brandi Carlile – Live at Benaroya Hall With the Seattle Symphony
Priscilla Ahn – When You Grow Up / Free AOL Album Stream
Cheeseburger – Another Big Night Down the Drain
Det Vackra Livet – Det Vackra Livet
Dave Depper – The Ram Project (Paul McCartney covers) / "Oh Woman, Oh Why," "Dear Boy" [mp3]
Owiny Sigoma Band – Owiny Sigoma Band / Free AOL Album Stream
Twin Atlantic – Free / Free AOL Album Stream
Prefuse 73 – Only She Chapters / Free AOL Album Stream
The Wave Pictures – Beer in the Breakers / Free AOL Album Stream
Vandervelde – More Than You Can Feel (Single) / "More Than You Can Feel" [mp3]
Destry – Waiting on an Island / Free AOL Album Stream
Secondhand Serenade – Weightless EP / Free AOL Album Stream
Stevie Nicks – In Your Dreams
INXS: Original Sin
COMPILATIONS
Loudon Wainwright III – 40 Odd Years
No Future: A Tribute To The Sex Pistols, the Clash, the Damned / Leatherface – "Melody Lee" (Damned Cover) [mp3]
REISSUES
Dwarves – The Dwarves are Born Again