Matthew and the Atlas at SXSW (03/19/11)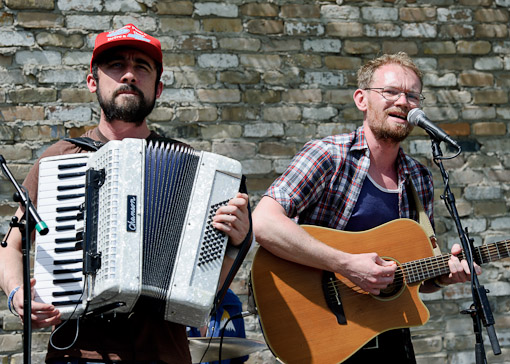 Photo: Jon Klemm
Listen: Matthew and the Atlas on Soundcloud
Watch: Matthew and the Atlas on YouTube
Though they don't yet have a full length album under their belts, if you've heard any of Matthew and the Atlas' music you probably wouldn't be surprised to learn that Brit-folk superstars Mumford & Sons have tapped the young group to support them on their upcoming US tour. While that M&S tour doesn't swing by NYC this summer (at least not that we know of yet), Matthew Hegarty and his band are playing a couple of one-off US gigs before they head back across the pond. As of right now, you can catch their only New York gig at The Rock Shop on Jun 24 (Buy Tickets). As I mentioned at the top of this post, while MATA haven't recorded a "proper album" yet, they have released two EPs on the influential Communion Records label in the UK, and their full length debut LP is "in the works".
Upcoming US tour dates, a video for "Within the Rose" and more pictures of Matthew and the Atlas from SXSW after the jump.
UPDATE (05/12): Mercury Lounge and a few other US dates added to the tour calendar.
Matthew and the Atlas 2011 US Tour Dates
06/01 SPACE Evanston, IL !
06/03 The City Market Kansas City, MO *
06/04 Wakarusa Festival Ozark, AR *
06/05 The Pageant St Louis, MO *
06/07 Asheville Civic Center Asheville, NC *
06/08 Raleigh Amphitheatre Ralegih, NC *
06/09 Merriweather Post Pavilion Columbia, MD *
06/11 Bonnaroo Manchester, TN *
06/12 Fox Theatre Atlanta, GA *
06/14 Harrah's Council Bluffs Council Bluffs, IA *
06/15 The Fillmore Auditorium Denver, CO *
06/16 The Fillmore Auditorium Denver, CO *
06/17 Night Grass at The Palm Theatre Telluride, CO *
06/22 Mercury Lounge New York, NY %
06/23 World Cafe Philadelphia, PA %
06/24 The Rock Shop Brooklyn, NY %
06/25 Great Scott Boston, MA %
! With Derek Nelson & the Musicians
* Supporting Mumford & Sons
% MATA Headlining show
Matthew and the Atlas at SXSW 2011 by Jon Klemm