Bumpershine.com Inbox (2008-2011)



Click to enlarge the chart
So, as you might imagine, being a blogger, I get a lot of emails, so many in fact, that I can't possibly respond to them all personally. I know this probably makes some people think I am aloof, unfriendly or even mean*, but the truth of the matter is with a full time day job, it's hard to even maintain the level of communication that I currently keep up. Having said all that, I thought I would set out to discover the actual volume of email that I receive every day, month and year. Though my totals are not 100% accurate, (some unaccounted for @bumpershine.com email slips into my personal account and some goes directly to spam), with the help of Gmail labels and filters I was more or else able to get a pretty good estimate of the entire volume of email I have received since I started blogging. I'm no Nate Silver of course, but here are some of the more the interesting results from my statistical analysis of the data.
The Tale of The Blogger's Inbox
Most Emails In One Month: 2663 (Mar 2011)
All Time High Daily Email Average: 85.9 emails/day (Mar 2011)
All Time High Monthly Email Average: 2,206 (Jan-Apr 2011)
First Month w/ Over 1K Emails: Oct 2008 (1,099)
First Month w/ Over 2K Emails: Mar 2010 (2,012)
2011 Total YTD (Jan-Apr): 8,824
2011 Projected Total: 26,472
2010 Total: 22,579
Total All Time (Nov 2004 – Apr 2011): 56,375
If you'd like to try this for yourself sometime, here's how I got my data. First off, I used a Gmail filter to assign the "bumpershine" label to every email I received that was addressed to an @bumpershine.com address. Then, using Gmail's search box, I ran a query that looked something like this: "label:bumpershine after:2011/03/1 before:2011/04/1". Unfortunately, due to a flaw in Gmail's search functionality, that query itself does not return an accurate total for the month until you navigate back to the page with the "oldest" emails for that month. After you've run the monthly query once, change the start and end dates, rinse and repeat. It's a tedious process no doubt, but the data geek in me is now satisfied, at least for the time being. (Oh yeah, the other thing about all this data is that Gmail counts a threaded conversation as a single email, so that actually skews these numbers a bit lower than they should be.)
* The truth is I wish I could respond to everyone personally, because I don't like being perceived negatively by folks I don't even know, and I have a lot of empathy for the often hapless job of being a publicist.
More fun charts and statistics after the jump.
Bumpershine.com Inbox (2004-2011)



Click to enlarge the chart
Bumpershine.com Inbox (2004-2007)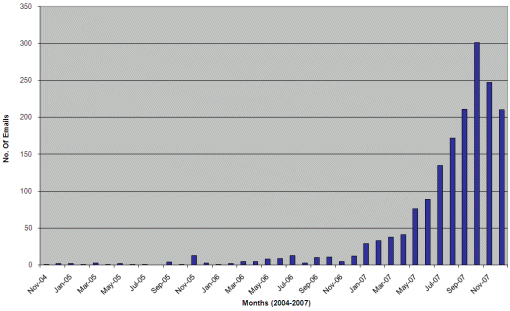 Click to enlarge the chart
Bumpershine Email Data
Year | Yearly Total
2010: 22,579
2009: 15,082
2008: 8,189
2007: 1,582
2006: 84
2005: 32
2004: 3
Year | Monthly Avg
2011: 2206.00
2010: 1881.58
2009: 1256.83
2008: 682.42
2007: 131.83
2006: 7.00
2005: 2.67
2004: 0.25
View the entire spreadsheet over here via Google Docs.