2011 Polaris Prize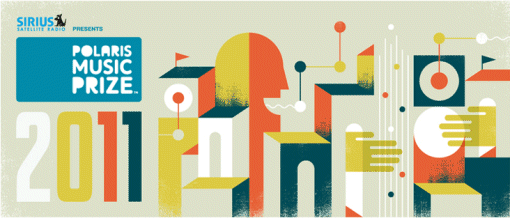 Hey folks, it's Polaris Prize time again, check out the 2011 Long List below:
2011 Polaris Prize Long List
Arcade Fire – The Suburbs
Austra – Feel It Break
Black Mountain – Wilderness Heart
Braids – Native Speaker
Buck 65 – 20 Odd Years
Louise Burns – Mellow Drama
D-Sisive – Jonestown 2: Jimmy Go Bye Bye
The Dears – Degeneration Street
Destroyer – Kaputt
Diamond Rings – Special Affections
Dirty Beaches – Badlands
Luke Doucet and The White Falcon – Steel City Trawler
Eternia & MoSS – At Last
Galaxie – Tigre Et Diesel
Jenn Grant – Honeymoon Punch
Tim Hecker – Ravedeath, 1972
Hey Rosetta! – Seeds
Hooded Fang – Album
Imaginary Cities – Temporary Resident
Land Of Talk – Cloak and Cipher
Little Scream – The Golden Record
The Luyas – Too Beautiful To Work
Malajube – La Caverne
Miracle Fortress – Was I The Wave?
One Hundred Dollars – Songs Of Man
Doug Paisley – Constant Companion
PS I Love You – Meet Me At The Muster Station
Daniel Romano – Sleep Beneath The Willow
The Rural Alberta Advantage – Departing
Ron Sexsmith – Long Player Late Bloomer
Shotgun Jimmie – Transistor Sister
Sloan – The Double Cross
Frederick Squire – March 12
Stars – The Five Ghosts
Colin Stetson – New History Warfare Vol. 2: Judges
Timber Timbre – Creep On Creepin' On
The Weeknd – House Of Balloons
Women – Public Strain
Neil Young – Le Noise
Young Galaxy – Shapeshifting
While I can't say I've been following the Canadian releases as closely as I used to, the long list looks pretty good to me this year. At fist blush, I don't see any glaring omissions, but Chromewaves, I(Heart)Music, Hero Hill, or Said The Gramophone might have some opinions on that. Also, this year's Polaris Prize has gotten richer:
For the first time in our six year history, we're increasing the prize money. We will now be presenting the winner with a cheque for $30,000, an increase of $10,000. This increase is due in no small part to our good friends and presenting sponsor Sirius Satellite Radio Canada. Welcome back Sirius!

But wait, that's not all. We had a meeting with music industry hall-of-famer Gary Slaight a while back. He said to us "We need to give the artists who don't win something too." We agreed, so he put up $2,000 for each of the nine non-winning Short Listers.
Here's the next set of important dates for the 2011 Polaris Prize:
The 2011 Polaris Prize Short List: July 6, 2011
Live on Sirius 152 and CBC Radio 3. And on Twitter.
The Polaris Prize Gala: September 19, 2011
Live on Sirius 152 and CBC Radio 3. Live on MuchMusic.com and airing on Much Music.
PS Though the Polaris jury always tends to make unpredictable choices, I think it's fair to say that Arcade Fire is the band to beat this year (it's maybe the one award they haven't won yet).