Conan O'Brien Can't Stop In Theatres Now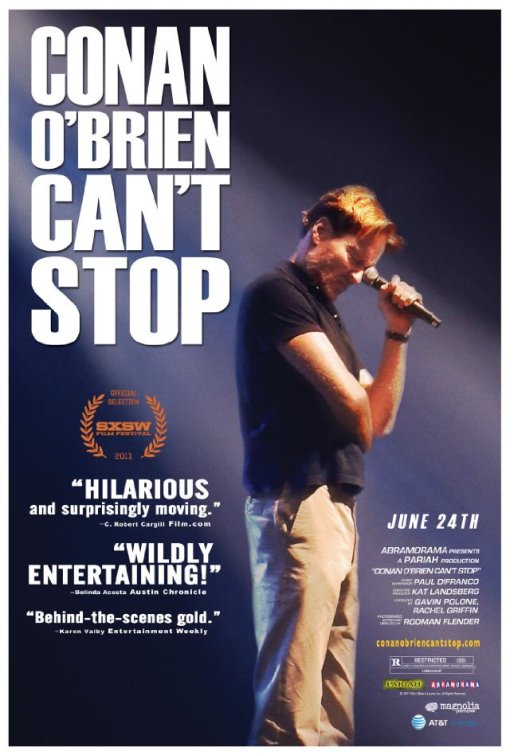 The new Conan O'Brien documentary entitled Conan O'Brien Can't Stop came out on Friday (June 24) in limited release. Chronicling his Legally Prohibited From Being Funny On Television Tour from Eugene, OR to Bonnaroo, here's (part of) what Stephen Holden of The Times had to say about it:
If "Conan O'Brien Can't Stop" is consistently watchable, it isn't especially funny, nor does it give any deeper insight into its star than you might get from seeing his late-night shows. Mr. O'Brien, a Harvard-educated entertainer from an upper-middle-class background in Brookline, Mass., is certainly smart. The way he tosses off witticisms both onstage and back suggests a mind so supercharged it risks eating itself. In one amusing stage bit he notes his own physical resemblance to Jimmy Neutron and Tilda Swinton. But a longer monologue in which he identifies "the four stages of anger" doesn't quite pay off.

As a tour documentary "Conan O'Brien Can't Stop" leaves much to be desired. You long to see more of this rock 'n' roll comedy extravaganza than the film's scattered short excerpts provide. The jumpy editing suggests that the filmmakers were worried that longer segments might reveal the thinness of Mr. O'Brien's material, though there is no way of knowing, since so little of it is shown. The film spends too much time with Mr. O'Brien and his team backstage, where he is the needy focus of attention at all times. That he can be volatile and peevish is suggested by his half-joking diatribe to an assistant who had been instructed to order a plain grilled-cheese sandwich that arrived drenched in butter. [NYTimes.com]
OK, well if that didn't make you want to run to the movie theater, perhaps you'll want to run to The Beacon when TBS' Conan tapes there from October 31 – November 3. The return to New York marks Conan's first time hosting a late night show from the Big Apple since he gave up his hosting duties at NBC's Late Night in 2009. No word yet on how to get tickets, but TeamCoco.com promises an announcement later this summer.
Listen to an interview with Conan's longtime producer Gavin Polone and watch the official trailer for Conan O'Brien Can't Stop after the jump.
Listen: Gavin Polone on KCRW's The Business