Sweet 7th Anniversary at Webster Hall Tonight! (09/07/11)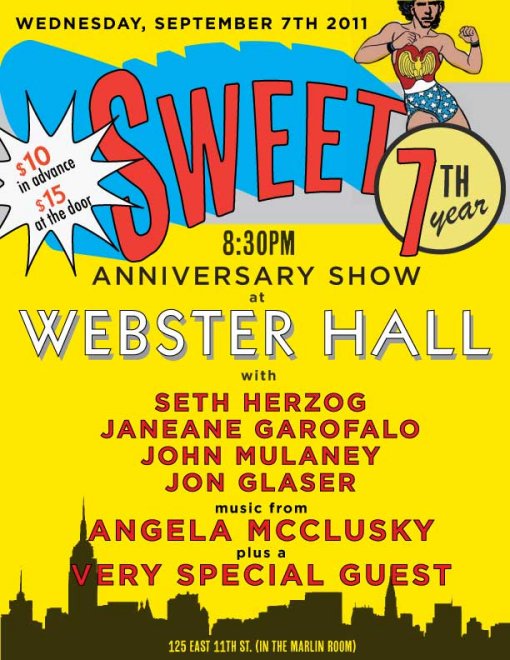 I can't say I've been there, or I've even gotten a press release about it, but according to their Wikipedia page the Upright Citizens Brigade's newest theatre, UCB East aka UCBeast (the old Two Boots Pioneer space 3rd St and Ave A) is now open for business.
Founding UCB members Matt Walsh Matt Besser & Ian Roberts announced at Del Close Marathon 12 in 2010 that a new theater known as UCB East (nickname "UCBeast") would open in 2011. The 120 seat theater is located on Avenue A and 3rd street and will have more stand-up and storytelling shows than the main 26th street theatre, though still has some improv comedy too. UCB East opened for business on September 6th, 2011. [Wikipedia]
The UCBEast schedule and website are really nowhere to be found (well, at least Google has failed me thus far), but notices for a few shows are trickling out through the grapevine. Noah Garfinkel and Joe Mande's Totally J/K will be taking up a weekly residence at UCBEast on Thursdays at 9:00 PM and the new Sara Schaefer and Scot Moran show, After Hours with Gene Hackman, will be happening every Tuesday at 8:00PM starting Sep 13. This Thursday (9/8), Joe and Noah will be hosting Vanessa Bayer, Das Racist and the ubiquitous more, I'm not sure what Sara and Scott have planned for next week, but I'll try and keep you posted.
UPDATE: Nate from The Apiary was there last night and he's posted a few pics and a little review over here.
In other big comedy goings on this week, on Wednesday (Sep 7), Seth Hezog will be celebrating the 7th Anniversary of his long running alt-comedy show, Sweet. Special guests for the anniversary blow-out include star of film, television, and radio, Janeane Garofalo, comedian and SNL muckety-muck, John Mulaney (PS I'm still waiting for those tickets you promised) and my next-door neighbor and man of many disguises, Jon Glaser, musician Angela McClusky and a special guest who may sound like a duck. The anniversary festivities will be at The Marlin Room (?) at Webster Hall, tickets ($10 Advance/$15 At The Door) are on sale now. Sweet's regularly scheduled programming will resume next week at Ella Lounge.
In other news this week, the Eugene Mirman Comedy Festival has listed the performers for each of this year's shows, here's who is doing what and when (more or less):
Thursday, September 15 at 8:00pm, Bell House
An Evening Of Science featuring StarTalk Live
Featuring Neil deGrasse Tyson, Kristen Schaal, Eugene Mirman and John Oliver (unless The Daily Show sends him somewhere)

Friday, September 16 at 7:30pm, Union Hall
A Night Of Very Likable Comedians
Featuring Tom Shillue, Seth Herzog, Jane Borden, John Mulaney, Tom Allen, Kurt Braunohler

Friday, September 16 at 8:00pm, Bell House
Invite Them Up
Featuring Eugene Mirman, John Mulaney, Slovin and Allen

Saturday, September 17 at 6:00pm, Bell House
The Archer Variety Hour and Panel
Featuring Jon Benjamin, Aisha Tyler, Matt Thompson, Adam Reed, Jessica Walter, Lucky Yates, Amber Nash

Saturday, September 17 at 6:30pm, Union Hall
A Night Of Very Likable Comedians
Featuring Ron Funches, Tom Allen, Brent Sullivan, Damien Lemon, Jena Friedman, Greg Johnson

Saturday, September 17 at 8:30pm, Union Hall
The Rick Jenkins Comedy Studio Showcase
Featuring Rick Jenkins, Matt D., Rick Canavan, Erin Judge, Myq Kaplan, Gary Gulman, Mehran Khaghani, Lamont Price, Ken Reid

Saturday, September 17 at 9:00pm, Bell House
The Talent Show Presents: The Drunk Show
Featuring John Hodgman, Ira Glass, Eugene Mirman, Jen Kirkman, Leo Allen, and Jessi Klein. Hosted by Kevin Townley and Elna Baker

Sunday, September 18 at 6:00pm, Bell House
A Special Food Themed Comedy Show For You
Featuring Eugene Mirman, Sarah Vowell, Larry Murphy, Ron Funches

Sunday, September 18 at 9:00pm, Bell House
Pretty Good Friends
Featuring Eugene Mirman, Michael Showalter, Hannibal Buress and more
Last but not least, here's a glimpse of what else is going on for the rest of the week:
NYC Comedy Calendar (Sep 7 – Sep 12) (more)
09/07 Sweet 7th Anniversary (Marlin Room at Webster Hall)
09/07 Breakout Artist Comedy Series: Andrew Ginsburg (Carolines on Broadway)
09/07 Breakout Artist Comedy Series: Brooke Van Poppelen (Carolines on Broadway)
09/07 Big Terrific (Cameo Gallery)
09/07 WFMU 7 Second Delay Live w/ Wyatt Cenac, David Carr, Weev and Eleanor Friedberger (UCB)
09/07 Get Loose with Aaron & Lee (The Gutter)
09/07 Gandhi Is That You (Lucky Jack's)
09/07 Totally J/K w/ Joe and Noah (UCB East)
09/08 Comedy As A Second Language (Kabin)
09/08 Brad Sacks Gets A Handjob (UCB)
09/08 Tribeca Film Presents: Shut Up Little Man! FREE (Union Hall)
09/08 The Skint's 'so-you-think-you've-got-talent idol with the stars' (Bell House)
09/09 Christian Finnegan, Nate Bargatze (EastVille Comedy Club)
09/09 Stone Cold Fox: This Is Not Art (UCB)
09/09 – 09/11 Nick Di Paolo (Gotham)
09/10 Heart Of Darkness: Hosted By Greg Barris Ft. Sean Patton, Adira Amram, David Amram (Union Hall)
09/11 Hannibal Buress, Daryl Lenox, Louis Katz (Knitting Factory)
View the poster for After Hours with Gene Hackman the and Sara Schaefer's new video appeal to Justin Timberlake after the jump.
After Hours with Gene Hackman at UCBEast