Rich Aucoin and a fan at SXSW 2011

Halifax electro pop artist and one-man party machine, Rich Aucoin, has just announced the details of his new album, We're All Dying To Live, which is set for a November 1 release via Sonic Records. WADTL includes material from Rich's previously released Public Publication EP along with tracks from the newly recorded Over The Top! LP. Here's a little bit more about the new album (which was once known as the Publication Publication LP) from Rich's Facebook page:
The focus of Public Publication is simply to contain as much of the country as possible. Featuring more than 500 musicians and recorded locally from Victoria, BC to Saint John's, NL (and as far north as Dawson City, YK), the album was made in professional studios, bedrooms and churches. Performers range from members of some of Canada's biggest bands to fans with little to no musical training. It took over two years of traveling to schedule and record all these individuals. The amazing part is that Public Publication still feels like a simple, well-written pop album…but deep within lies the communal inspiration that encourages Aucoin to follow through with his ambitious ideas. [Rich Aucoin's Facebook Page]
We're All Dying To Live album art, track listing and Rich Aucoin tour dates after the jump.
Rich Aucoin – We're All Dying To Live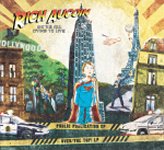 We're All Dying to Live – Rich Aucoin
1. "The Morning Becomes Eclectic Overture"
2. "All You Cannot Live Without"
3. "Being in Need of Something"
4. "Even If All Your Friends Abandon You SMiLE"
5. "Brian Wilson Is A.L.i.V.E."
6. "We're All Slaves to the Two-Four"
7. "Only the Little Creatures Know"
8. "It"
9. "The Greatest Secret in the World"
10. "Watching Ice Station Zebra for the 151st Time"
11. "P:U:S:H"
12. "We Must Imagine Sisyphus/Ourselves Happy"
13. "1929-1971"
14. "Watching, Wishing, Waiting"
15. "Please Give This to Seymour Stein"
16. "Hope for the Flowers"
17. "Undead Pt. "1 – Estrangement"
18. "Undead Pt. "2 – Reconciliation"
19. "Watching Herzog and Listening to the Idiot"
20. "Living to Die"
21. "Dying to Live"
22. "500 People Talking"
Rich Aucoin 2011 Tour Dates
09/13 Toronto, ON – The Drake Hotel (TIFF)
09/17 Fredericton, NB – Harvest Jazz & Blues Festival
09/21 Montreal, QC – Mission Santa Cruz (Pop Montreal)
09/22 Montreal, QC – Sala Rossa (Pop Montreal)
09/25 Montreal, QC – Le Divan Orange (Pop Montreal)
10/19 Halifax, NS – St. Matthews United Church (Halifax Pop Explosion)