Charles Bradley at Bumbershoot 2011 (09/04/11)


Words and Photos: Drake Lelane
Enjoy the final installment of Drake's coverage from Bumbershoot 2011. -ed.
Bumbershoot 2011 – Day 3
For the third and final day of Bumbershoot, I had a special guest with me to start out. My four-year old son Zane, freshly back from a week at Camp Grandpa, loves himself some live music, so he acted as my 'assistant' for the first half of the day. That meant sticking to a schedule that small legs could easily endure, and sadly meant no My Goodness (playing the Exhibition Hall, where darkness and volume are king). It was another hot day to start, made far more tolerable by a sparser attendance — typical of a Bumbershoot Monday. If I sound like I speak with authority, it's because this is my 25th Bumbershoot… in a row (an achievement I realize I'd forgotten to mention until now). First appearance was in 1987 — driving over the pass with friends from high school — and I've attended at least part of a day for 25 years, either as a ticket buyer, a volunteer, a sponsored guest or, for the last four years, as a photographer.
Fly Moon Royalty
After a Motopony pit fly-by (Zane seemed put off by singer Daniel Blue's onstage persona), Z and I settled in the grass at Fisher Green to wait for Fly Moon Royalty's set to begin. I had this one circled twice, in part as a make up for having to miss their much talked about performance at Doe Bay fest the month prior. Getting kids to bed in their tents was the conflict, so having Z with me was somewhat fitting. The duo of singer Adra Boo and keyboardist/DJ Action Jackson have been creating a bit of a stir in the greater Seattle environs of late, and their set more than lived up to the hype. Starting with only a sparse crowd, Jackson loosened everybody up for Boo's robust entrance. After breaking the ice with some smooth ballads, things got interesting as the band moved into a more dance oriented groove, bringing up a couple of Boo's burlesque dancing friends on stage to help 'shake' things up. Z was enthralled. You see, my lil' man loves to dance himself up a storm. After hearing the one song he knew ahead of time (their single, "Lemonade"), though, Z was ready to move on. That means we missed NighTrain's Taryn Ren'e Dorsey joining FMR onstage for a few songs. We'll catch you next time, Taryn!
Curtains For You
With Zane still in tow, I hadn't planned on taking in any indoor sets, but Z spotted the multi-colored EMP building — pointing, saying "I want to go to the blue part" — an opportunity presented itself to take in some of Curtains for You, the power pop quintet featuring brothers Gervais (Matthew & Mike) and Peter Fedofsky. Their sugary sweet power pop I knew would be an easy sell for Z, who enjoyed the in-front-of-the front row view. Harmony-laden pop so often can end up being a yawn-inducing proposition after awhile, but the Gervais bros. have a lot of energy to burn and they turned EMP level 3 into their own little harmony filled playground.
Grand Hallway
The last stop for my lil' man's photo pit tour was at the Starbucks stage, the Mural Ampitheatre under the needle, where he enjoyed himself so much the year prior listening to Justin Townes Earle. While Grand Hallway didn't enchant him as much as JTE, their baroque pop went over well in the sunny setting. Singer Tomo Nakayama took the time between songs to give a quick art history lesson on the mural art behind him (by collage artist Paul Horiuchi) and the band was in good spirits. Still felt a bit weird not having Shenandoah Davis, who was out on tour in support of her sublime solo release (The Company We Keep).
Charles Bradley
I missed a few sets prior to this, needing to take the four-year old back home, but there was no way I was missing this set — the most talked about set from Bumbershoot this year. Decked out in purple with a monstrous belt buckle and sequined city skyline vest, Bradley finally entered the stage two songs in and proceeded to bring both huge smiles and honest-to-God tears to each audience member, as he belted out song after song of sweet honey-dripped soul. How Charles Bradley went from belabored chef to releasing his debut album earlier this year at age 62 is something that deserves its own post, but it's worth noting in that his trials in getting here seem to have made him especially appreciative of each and every eye on him. The love and appreciation was easily reciprocated.
Sharon Van Etten
Sharon Van Etten has the honor of being the one performer in Bumbershoot's 2011 lineup that would fit seamlessly into what's going on in the current Seattle climate, and since this festival was so locals heavy, we'll just give the Jersey-born, Brooklyn resident an honorary local. For her first BShoot set, the golden-throated Van Etten started out solo acoustic for two songs before bringing her band out, changing the mood just a bit. For someone singing such powerful songs about love and loss, Van Etten was incredibly affable, exchanging pleasantries with the audience and delivering clever banter between songs with an easy smile. A Northwest trait, if there ever was — maybe it's time to trade Brooklyn for Ballard, eh Sharon?
Urge Overkill
It's been 16 years since UO petered out on the heels of 1995's under-appreciated Enter the Dragon, and the Chicago rockers — Nash Kato and King Roeser — are back. Their comeback release, (Rock & Roll Submarine), from earlier this year, has just enough of the old UO panache to remind us that they were, in fact, once 'a thing.' Years later, Nash and King still wear the rock star schtick with admirable sincerity, combining Cheap Trick hooks with self-referential lyrics. Their Bumbershoot set contained perhaps too much of their album, but there was enough call backs to classic UO to make it another of the few sets I saw pretty much all of. Receding hairlines and Roeser's beer gut might have made the rock poses a bit more silly, but for a couple moments I could swear it was 1993 again, and that's all I was asking of this set.
Phantogram
After the UO brief step back in time, it was back to the future with Phantogram's cool sonic and visually enticing set. Like with Toro y Moi from the day prior, I found myself again in some weird trance trying to capture the head of either singer Sarah Barthel or bandmate Josh Carter inside the kaleidoscope-like light backdrop. In very un-Seattle-like fashion, folks were bouncing and moving to the beats. Prior to this, I'd been blissfully unaware of Phantogram's charms, but that's a mistake I'm glad to be able to fix.
Grant Lee Buffalo
And, it was time for another step back into the past. While folks were packed in Key Arena for another blast from the past (Hall & Oates), a decent chunk of us 90s apologists not at the Reverend Horton Heat set, made our way over to hear Grant Lee Buffalo plow through their (too short) history. Grant-Lee Phillips' vocals and fuzzed out 12-string, along with Paul Kimble's thundering bass and background vocals, brought it all back, some 14 years later (Kimble left the group in '97). Besides closing out Bumbershoot in style, the band also easily had the most entertaining soundcheck of the festival. After they finished, Phillips quipped "We've got no more shows on our tour, so I guess we'll see you in another 14 years." Let's hope not.
More photos from Drake's Day 3 at Bumbershoot 2011 after the jump.
Motopony

Fly Moon Royalty

Curtains For You

Grand Hallway

Charles Bradley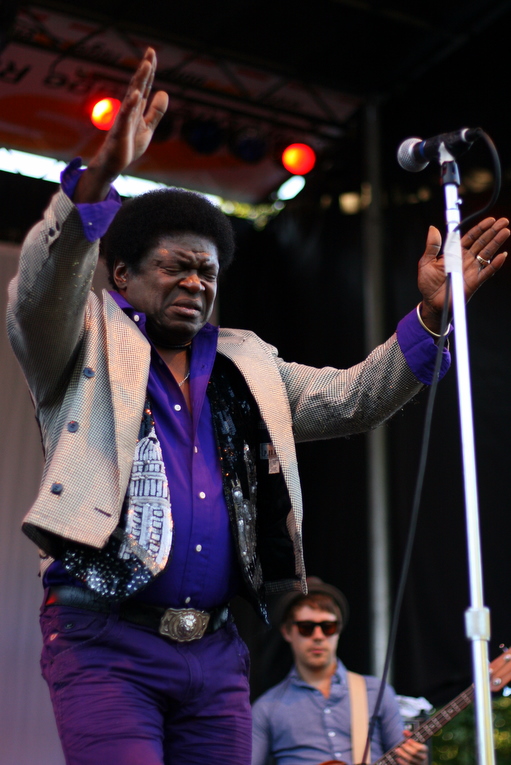 Sharon Van Etten

Urge Overkill

Phantogram

Grant Lee Buffalo

Reverend Horton Heat

Until next year, my west coast amigo! -ed.