James Mercer of The Shins at a Broken Bells show MHOW (03/10/10)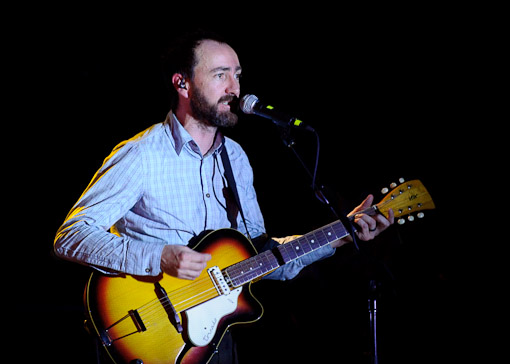 Photo: Jon Klemm (more)
It's been a while since The Shins have played NYC, but fans can rejoice because James Mercer and his new band mates will be bringing their live show to the venerable Bowery Ballroom (an underplay in case you weren't sure) on Sep 25, 2011. Tickets for that show go on sale today, Wednesday, Sep 21, at noon ET (Buy Tickets). The Shins eagerly anticipated fourth album will be released on Sony/Columbia in the year 2012.
James Mercer has been joined on these dates by a Shins lineup consisting of Yuuki Matthews (bass), Jessica Dobson (guitar), Richard Swift (keyboards) and Joe Plummer (drums). The setlist has previewed material from the long awaited fourth Shins album, which Mercer will complete following the tour. Due out next year on Aural Apothecary/Columbia, the new album will be the band's first since 2007's Grammy-nominated gold-certified Wincing The Night Away.
More of The Shins 2011 tour dates after the jump.
The Shins 2011 Tour Dates
09/22/11 – Toronto, ON – Phoenix Concert Theatre
09/23/11 – Philadelphia, PA – Popped! Festival
09/24/11 – Boston, MA – Paradise Rock Club
09/25/11 – New York, NY – Bowery Ballroom
10/15/11 – Pensacola, FL – DeLuna Festival