Hey folks, while the 2011-2012 NFL season is already upon us, the new season of The League begins tonight (Oct 6) on FX. Season 3 brings the original gang back together for another 13 episodes of over-the-top competition, backstabbing, one-upmanship and of course, fantasy football. Episode 1 ("The Lockout") guest stars as Jason Mantzoukas as Rafi and Seth Rogen, who provides a memorable turn as "Dirty Randy". While there are a number of subplots in the first episode (Ruxin's interminable gloating over his win, Taco's adventure filled off-season), the story more or less revolves Andre (Paul Scheer) as he suffers through the final rites of his "sacko" punishment for coming in last in last year's draft. While the bulk of Andre's humiliation is public, the most outrageous prank is played behind his back in his own apartment during the actual draft. Many of the episodes of The League ask us to suspend our disbelief when it comes these guys behavior, and while tonight's episode takes it to the extreme, it still manages to be pretty hilarious. The League premieres tonight (Oct 6) at 10:30 on FX, so don't forget to set your DVRs (or better yet, stay up to watch).
If you're new to The League, and perhaps a little daunted at the prospect of diving in at Season 3, there are a couple of things you can do to catch up: 1) You can watch all six episodes of Season 1 of The League on Netflix Instant, Hulu, Amazon Instant Video, or on DVD; 2) You can watch all 13 episodes of Season 2 on Amazon Instant Video or buy the just released DVD or Blu-ray versions; 3) You can go watch the cast (Nick Kroll, Jon Lajoie, Stephen Rannazzisi and Paul Scheer) live on Friday, October 7 at The Gramercy Theatre in NYC (both shows are sold out, but if you're a fan, there's always a way); 4) Last but not least, you can win a copy of Season 1 and Season 2 on DVD right here at this site, if you fill out the contest entry form after the jump. Contest ends on Friday, October 14 at 11:59 PM, US entrants only, one entry per household please.
Fill out the entry form after the jump for a chance to win Season 1 and 2 of The League on DVD.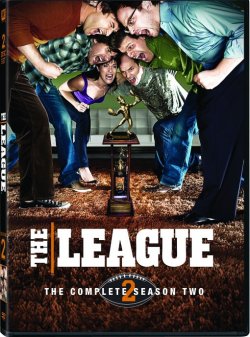 The League: The Complete Season 1
Disc 1:
Deleted Scenes; Andre: Dress With Style, Win With Style; Legalize Kevin's Pubic Smoke; Archer Pilot Episode

Disc 2:
Blooper Reel; Deleted Scenes; Alt Nation; Mr. McGibblets Fun House and Dojo; Birthday Song; Three Penis Wine; Vaginal Hubris extended

The League: The Complete Season 2
Discover all 13 episodes and never-before-seen exclusive extras on The League Complete Second Season Blu-ray and DVD including unrated extended episodes, deleted scenes, a gag reel, special featurettes, and more.

Disc 1:
Vegas Draft (Extended Episode); Bro-Lo El Cuñado (Extended Episode); The White Knuckler; The Kluneberg (Extended Episode); The Marathon; The Anniversary Party; Ghost Monkey; Deleted Scenes; Kluneberg Paint by Numbers; El Notario; Taco Tones Productions Presents: I'm Inside Me, Notarize!; Andre's Extended Fads, Ruxin's Wedding Video

Disc 2:
The Tie (Extended Episode); The Expert Witness (Extended Episode); High School Reunion; Ramona Neopolitano (Extended Episode); Kegel the Elf; The Sacko Bowl (Extended Episode); Deleted Scenes; Alt Nation; Gag Reel; Taco Tones Productions Presents: Vinegar Strokes