Andrew Bird at Celebrate Brooklyn (06/10/11)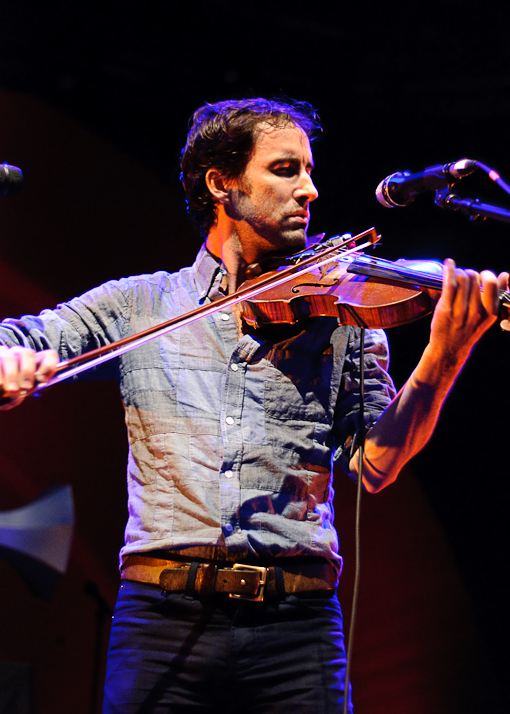 Photo: D. Caplan
Multi-instrumentalist, looper, whistler and professional fixer of anything that has to do with strings, Andrew Bird, has just announced that his twelfth album, Break It Yourself, will drop on March 6, 2012 on Mom + Pop. He'll be kicking off his tour in support of BIY in March 2012 and then swinging out to NYC on May 4 and 5 for two shows at The Beacon Theatre. Tickets for those shows go on general sale on Friday, December 9 (today) at 11AM ET. Ticket buyers will receive a unique redemption code to download Break It Yourself upon its release date (March 6) as well as a download of Fake Conversations, a live EP culled from Bird's Fall 2011 tour, and a second souvenir Live EP from the Spring 2012 tour. U.S. fans who don't live in upcoming tour markets will be able to buy the album/live EP bundle as part of a standalone pre-order as well.
Andrew Bird's much-anticipated twelfth album, Break It Yourself, is due March 6 on Mom + Pop. Produced by Bird, the album was recorded at his barn in Western Illinois near the banks of the Mississippi River. Break It Yourself follows Bird's 2009 full length release Noble Beast, which was hailed as his "most instantly inviting album by far" by the Los Angeles Times while Rolling Stone praised him for "fusing…emotive indie rock with the chamber-music experimentalism of his early recordings." Please see attached for high resolution image, credit Cameron Wittig.
Tour dates, more pictures of Andrew Bird at Celebrate Brooklyn! and the trailer for Fever Year (a documentary film about Andrew) after the jump.
Andrew Bird 2011-2012 Tour Dates
12/21/11 Museum of Contemporary Art Chicago, IL*
12/22/11 Museum of Contemporary Art Chicago, IL*
01/12/12 Hawaii Theatre Honolulu, HI
03/15/12 Majestic Theatre Dallas, TX#
03/16/12 The Howlin' Wolf New Orleans, LA#
03/17/12 Tabernacle Atlanta, GA#
03/19/12 Ryman Auditorium Nashville, TN#
03/20/12 Southern Theatre Columbus, OH#
03/22/12 The Pageant St. Louis, MO#
03/23/12 The Uptown Theater Kansas City, MO#
03/24/12 Riverside Theater Milwaukee, WI#
04/09/12 Paramount Theatre Seattle, WA‡
04/10/12 The Vogue Vancouver, BC‡
04/11/12 Arlene Schnitzer Concert Hall Portland, OR‡
04/13/12 Fox Theater Oakland, CA‡
04/18/12 Ikeda Theater at Mesa Arts Center Mesa, AZ‡
04/19/12 Lensic Performing Arts Center Santa Fe, NM‡
04/20/12 Rialto Theater Tucson, AZ‡
05/03/12 Union Transfer Philadelphia, PA$
05/04/12 Beacon Theatre New York, NY$
05/05/12 Beacon Theatre New York, NY**
05/06/12 House of Blues Boston, MA$
05/08/12 9:30 Club Washington, DC$
05/09/12 Ramshead Live Baltimore, MD$
05/10/12 The Fillmore Detroit Detroit, MI&
05/12/12 Auditorium Theatre Chicago, IL&
* Andrew Bird and Ian Schneller's "Sonic Arboretum"
# with Eugene Mirman
‡ with Laura Marling
§ with Patrick Watson
** with Tift Merritt
& with Mucca Pazza
Andrew Bird at Celebrate Brooklyn by D. Caplan