2012 Juno Nominee Dan Mangan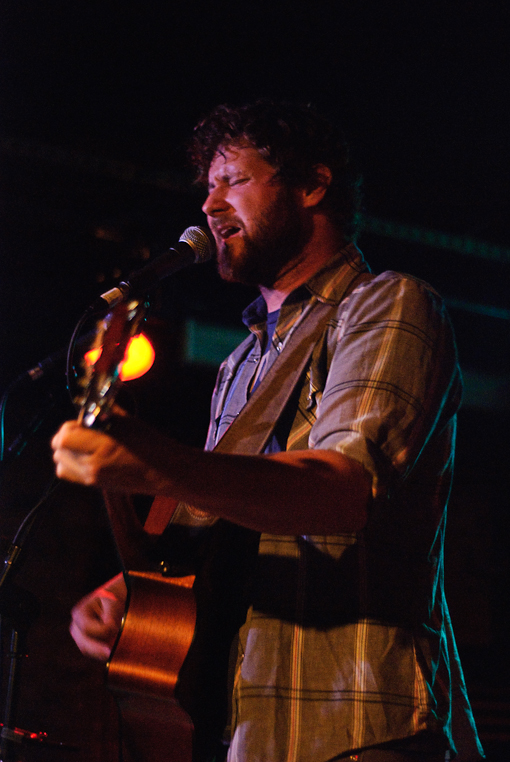 Photo: D. Caplan (more)
Congrats to all of the artists nominated for the 2012 Juno Awards, but a special big hearty Mazel Tov to Dan Mangan, who was nominated for no less than four Juno Awards this year including: New Artist of The Year, Songwriter of The Year, Alternative Album of The Year, and Video of The Year. Here's a list of the nominees in a few of this year's more "important" and interesting categories.
2012 JUNO NOMINEES
ALTERNATIVE ALBUM OF THE YEAR
Braids – Native Speaker
Dan Mangan – Oh Fortune
Destroyer – Kaputt
Fucked Up – David Comes To Life
Timber Timbre – Creep On Creepin' On
NEW ARTIST OF THE YEAR
Alyssa Reid
Dan Mangan
Diamond Rings
JRDN Kuya
Lindi Ortega
NEW GROUP OF THE YEAR
Braids
Hey Rosetta!
Mother Mother
The Rural Alberta Advantage
The Sheepdogs
SINGLE OF THE YEAR
City and Colour – "Fragile Bird"
Hedley – "Invincible"
Johnny Reid – "Let's Go Higher"
Nickelback – "When We Stand Together"
The Sheepdogs – "I Don't Know"
ALBUM OF THE YEAR
Avril Lavigne – Goodbye Lullabye
Drake – Take Care
Justin Bieber – Under the Mistletoe
Michael Bublé – Christmas
Nickelback – Here And Now
ARTIST OF THE YEAR
City and Colour
Deadmau5
Drake
Feist
Michael Bublé
GROUP OF THE YEAR
Arkells
Down With Webster
Hedley
Nickelback
Sam Roberts Band
INTERNATIONAL ALBUM OF THE YEAR
Adele – 21
Coldplay – Mylo Xyloto
Lady Gaga – Born This Way
LMFAO – Sorry For Party Rocking
Rihanna – Loud
For the rest of the 2012 Juno Nominees click here.
For some of the Most Anticipated Canadian Releases of 2012 check after the jump.
Exclaim's 20 Most Anticipated Albums of 2012
20. Memoryhouse – The Slideshow Effect (February 28)
19. K-os – BLack on BLonde
18. The Elwins – And I Thank You (February 21)
17. Bahamas – Barchords (February 7)
16. Chains of Love – Strange Grey Days
15. Hannah Georgas – TBA (release date TBA)
14. Islands – A Sleep & A Forgetting (February 14)
13. Eight and a Half – Eight and a Half (February 7)
12. Mares of Thrace – TBA (release date TBA)
11. The Wooden Sky – Every Child a Daughter, Every Moon a Sun (February 28)
10. Plants and Animals – The End of That (February 28)
9. Kid Koala – 12-Bit Blues (release date TBA)
8. Cancer Bats – Dead Set on Living (release date TBA)
7. Yukon Blonde – TBA (release date TBA)
6. Saukrates – Season One (release date TBA)
5. Kathleen Edwards – Voyageur (January 17)
4. Leonard Cohen – Old Ideas (January 31)
3. Grimes – Visions (February 21)
2. Japandroids – TBA (release date TBA)
1. John K. Samson – Provincial (January 24)
[Exclaim.ca]
Upcoming Canadian Releases For 2012: The CBC Radio 3 Guide
Jan 10 – Agnostic-Phibes Rhythm and Blood Conspiracy s/t (Campfire Tales)
Jan 10 – Various Artists – Urbnet Certified Vol. 1 (Urbnet)
Jan 10 – Rae Spoon – I Can't Keep All Of Our Secrets (Saved By Radio)
Jan 16 – Cold Warps – s/t + Endless Bummer (Noyes)
Jan 17 – Demetra – Lone Migration (Head In The Sand)
Jan 17 – Kathleen Edwards – Voyageur (MapleMusic)
Jan 17 – Hands and Teeth – Hunting Season (indie)
Jan 17 – Jokers of the Scene – JOT5 EP (Fool's Gold)
Jan 17 – Poirier – Soca Road EP (Mixpak)
Jan 20 – Aidan Baker – The Spectrum of Distraction (Robotic Empire)
Jan 22 – Azari & III s/t (Island)
Jan 24 – Actual Water The Paisley Orchard (Unfamiliar)
Jan 24 – Bidiniband In The Rock Hall (Pheremone)
Jan 24 – The Darcys Steely Dan's Aja (Arts and Crafts)
Jan 24 – deadmau5 – Meowingtons Hax 2k11 Toronto DVD (Ultra)
Jan 24 – The Diodes – Action/Reaction (BongoBeat)
Jan 24 – The Holiday Crowd – Over the Bluffs (New Romantic)
Jan 24 – Imaginary Cities – s/t EP (Turnout/Atlantic)
Jan 24 – John K. Samson – Provincial (Epitaph)
Jan 24 – K'Naan – More Beautiful Than Silence (Universal)
Jan 24 – The Mockingbird – No Good Deed Goes Unpunished (Tonic)
Jan 24 – Old Time Machine/Old Cabin – split EP (File Under Music)
Jan 24 – Poor Young Things – Let It Sleep (Bumstead)
Jan 24 – Amanda Thorpe – Promenade (BongoBeat)
Jan 24 – Woodpigeon – For Paolo EP (Boompa)
Jan 30 – Woods of Ypres W5: Grey Skies and Electric Light (Earache)
Jan 31 – Leonard Cohen – Old Ideas (Columbia)
Jan 31 – Matt Paxton – Shore Pine Walk (Other Songs)
Jan 31 – Sonic Avenues – Television Youth (Dirtnap)
Jan 31 – Slow Down, Molasses – Bodies of Water Remix EP (Little Pictures)
Jan 31 – Rattail s/t (Unfamiliar)
Jan 31 – Andrew Sisk – Treelines (indie)
Jan 31 – Yukon Blonde – Stairway/Radio 7″ single (Dine Alone)
Jan 31 – Young Empires – Wake Up All My Youth EP (Pirates Blend)
Jan 31 – ZZBRA ZZBRA: The Original Motion Picture Soundtrack (Camobear)
Feb 6 – Maylee Todd Hieroglyphics 7″ single (Do Right)
Feb 7 – Bahamas Barchords (Universal/Republic)
Feb 7 – Elliott Brood Days Into Years US Release (Paper Bag)
Feb 7 – Fucked Up Year of the Tiger 12″ (Matador)
Feb 7 – Jordan Klassen Kindness EP (indie)
Feb 7 – Long Weekends Don't Reach Out 7″ single (Noyes)
Feb 7 – Marie-Pierre Arthur Aux alentours (Bonsound)
Feb 7 – Rococode Guns, Sex and Glory (Head In The Sand)
Feb 9 – Emma-Lee Backseat Heroine (CLK Creative Works)
Feb 12 – Joseph Edgar Interstices EP (Bonsound) 
Feb 14 – All On Black Weightless (Meter)
Feb 14 – Amos The Transparent Good Night My Dear… I'm Falling Apart (indie)
Feb 14 – Blood Ceremony s/t (Metal Blade)
Feb 14 – Elias Fossils (Wax)
Feb 14 – Islands A Sleep And A Forgetting (Anti)
Feb 14 – The Just Barelys Mad Bits (indie)
Feb 14 – Chains Of Love Strange Grey Days EP (Dine Alone)
Feb 14 – Holiday Rambler There Is No End To The World (Daps)
Feb 14 – Lake Forest Silver Skies (Verite)
Feb 14 – Total Chaos Battered and Smashed (Stomp)
Feb 21 – BA Johnston Hi Dudes (Mom's Car)
Feb 21 – Boys Who Say No Contingencies (indie)
Feb 21 – Dirty Ghosts Metal Moon (Last Gang)
Feb 21 – The Elwins And I Thank You (indie)
Feb 21 – Grimes Visions (4AD)
Feb 21 – Lal s/t (Urbnet)
Feb 21 – Royal Canoe Extended Play EP (Head In The Sand)
Feb 21 – The Strumbellas My Father The Hunter (indie)
Feb 28 – The Balconies Kill Count EP (Coalition/Warner)
Feb 28 – Cuff The Duke Morning Comes US Release (Paper Bag)
Feb 28 – Steve Gates A Bee In Her Mouth (indie)
Feb 28 – Memoryhouse The Slideshow Effect (Sub-Pop)
Feb 28 – Ariane Moffatt MA (Audiogram)
Feb 28 – Mike O'Neill Wild Lines (Zunior)
Feb 28 – Erin Passmore The Downtown EP (Hidden Pony)
Feb 28 – Plants and Animals The End Of That (Secret City)
Feb 28 – Rose Cousins We Have Made A Spark (Outside)
Feb 28 – Trust TRST (Arts and Crafts)
Feb 28 – The Wooden Sky Every Child A Daughter, Every Moon A Sun (Black Box)
Mar 6 – Baby Eagle Bone Soldiers (You've Changed)
Mar 6 – Big Wreck Albatross (Anthem)
Mar 6 – Clouds of Analog The Funeral March (indie)
Mar 6 – Cowboy Junkies tba (Latent)
Mar 6 – Elfin Saddle Devastates (Constellation)
Mar 6 – Eric Chenaux Guitar and Voice (Constellation)
Mar 6 – Gold and Youth tba (Arts and Crafts)
Mar 6 – Lioness The Golden Killer (New Romantic)
Mar 6 – The Junction Grievances (Fontana North)
Mar 6 – Nardwuar and the Evaporators/various artists Busy Doing Nothing! (Mint)
Mar 6 – Octoberman tba (Saved By Radio)
Mar 6 – Paper Beat Scissors s/t (Forward Music Group)
Mar 6 – Ramblin' Ambassadors Ramble On (Mint)
Mar 6 – Said The Whale Little Mountain (Hidden Pony)
Mar 6 – Teenage Kicks Be On My Side (indie)
Mar 6 – Zachary Lucky Saskatchewan (indie)
Mar 13 – Boxer The Horse French Residency (Collagen Rock)
Mar 13 – Cold Warps Slimer 7″ single (Fundog)
Mar 13 – Cousins The Palm At The End Of The Mind (Saved By Vinyl)
Mar 13 – Silverclub s/t (Hidden Pony)
Mar 20 – Mac DeMarco Rock n Roll Night Club (Captured Tracks)
Mar 20 – Eamon McGrath Young Canadians (White Whale)
Mar 20 – Yukon Blonde Tiger Talk (Dine Alone)
Mar 27 – Budokan Spin A Little Gold (Northern Electric)
Mar 27 – Felix Cartal Different Faces (Dim Mak)
Mar 27 – Lisa Leblanc s/t (Bonsound)
Mar 27 – Real McKenzies Westwinds (Fat Wreck Chords/Stomp)
Mar 27 – Joel Plaskett Scrappy Happiness (New Scotland)
Mar 27 – 3 Inches of Blood Long Live Heavy Metal (Century Media)
Mar 27 – Zeus Busting Visions (Arts and Crafts)
tba – Bend Sinister tba EP (File Under: Music)
tba – Kid Koala 12 Bit Blues (Ninja Tune)
Apr 3 – Jill Barber Mischievous Moon US Release (Outside)
Apr 3 – Great Lake Swimmers New Wild Everywhere (Nettwerk)
Apr 3 – The Ruffled Feathers Oracles (indie)
Apr 10 – Eight and a Half s/t (Arts and Crafts)
Apr 10 – Imaginary Cities Temporary Resident (Turnout/Atlantic) US re-release
Apr 10 – Cancer Bats Dead Set On Living (Distort)
Apr 10 – dirtymags s/t (White Girl)
Apr 15 – White Cowbell Oklahoma Buenas Nachas (Slick Monkey)
Apr 17 – Homer Politics of Make Believe (Meter)
Apr 17 – Patrick Watson Adventures In Your Own Backyard (Secret City)
Apr 17 – Skip The Foreplay Night Life (Epitaph)
tba – Del Barber Headwaters (indie)
tba – K'Naan tba (Universal)
tba – Cold Specks tba (Arts and Crafts)
tba – K-OS BLack on BLonde (Universal)
tba – Old Time Machine tba (File Under Music)
tba – The Skydiggers – tba (MapleMusic)
May 1 – The Sadies w/ Andre Williams – Day and Night (Outside)
May 8 – Cedar Park – Way Back Home (Dead Daisy/Outside)
May 15 – Writers' Strike s/t (indie)
May 15 – Klarka Weinwurm – Continental Drag (Saved By Vinyl)
May 22 – DOA – We Come In Peace (Sudden Death)
May 22 – The Mohawk Lodge – Damaged Goods (White Whale)
tba – Brasstronaut – tba (indie)
tba – English Words – tba (Collagen)
tba – Hayden – tba (Hardwood)
tba – Lee Harvey Osmond – tba (Latent)
tba – Pistol George Warren Mindemoya (indie)
tba – Radio Radio tba (Bonsound)
tba – Saukrates – Season One (Frostbyte)
tba – Shout Out Out Out Out – tba (NRMLS WLCM)
tba – Wintersleep – Hello Hum (Labwork/EMI)
Jun 4 – The Wilderness of Manitoba – tba (Verite)
tba – july talk tba (White Girl)
tba – Metric – tba (Universal)
tba – More or Les Mastication (Fuzzy Logic)
tba – Rush – Clockwork Angels (Warner)
tba – Woodpigeon – Thumbtacks and Glue (Boompa)
[radio3.cbc.ca]