Aziz Ansari: Dangerously Delicious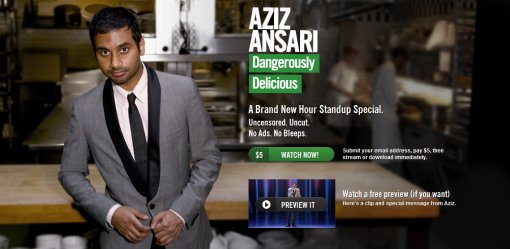 Just like Louis CK did before him and Jim Gaffigan will do after him, Aziz Ansari released a new one hour stand-up special exclusively online yesterday. As he explains below, you can download it for $5 at azizansari.com.
Hi. I just released my brand new standup special "Dangerously Delicious." Click here download/stream it at azizansari.com for only $5!

FAQ:

What is this?

I did a standup tour called Dangerously Delicious. Then I filmed it at the Warner Theatre in DC in June of 2011. I paid for the production myself and wanted to release it online. While I was trying to figure out the proper method of release, my friend and hilarious comedian Louis CK did his whole thing and it seemed to me that people really liked that model, so that was the route I decided to go.

Is the same material on your new tour?

No. The material on my upcoming Buried Alive tour is totally different. None of this material was on Intimate Moments for a Sensual Evening (my last special) either. Click here for tickets to the Buried Alive tour.

I tried to get it, but something happened and its not working?

Don't worry. Email support@azizansari.com or tweet at @azizsupport and someone will help you.

Do you like fish tacos?

Of course I do!
[azizisbored.tumblr.com]
Aziz is going out on tour starting next month to promote his new one hour show entitled Buried Alive. He'll be at the Wellmont Theatre on April 14 and then back in NYC for two shows at the Beacon Theatre on June 16. The early show at The Beacon is sold out, but tickets for the newly added late show are still available.
Tour dates and a video clip of Aziz's new special after the jump.
PS The NYTimes just published an article about the new $5 download comedy special trend on Tuesday.
Aziz Ansari 2012 Tour Dates
04/12/12 Kent, OH The Kent Stage
04/13/12 Syracuse, NY Oncenter Complex
04/14/12 Montclair, NJ Wellmont Theatre
04/21/12 Asheville, NC U.S. Cellular Center Asheville
04/25/12 Austin, TX Paramount Theatre
05/03/12 Madison, WI Barrymore Theatre
05/04/12 Milwaukee, WI Riverside Theatre
05/05/12 Royal Oak, MI Royal Oak Music Theatre
05/10/12 Kansas City, MO The Midland By AMC
05/11/12 St. Louis, MO The Pageant
05/12/12 Indianapolis, IN Murat Theatre
05/16/12 Portland, ME State Theatre
05/18/12 Boston, MA Wilbur Theatre
05/19/12 Mashantucket, CT MGM Grand At Foxwoods
06/15/12 Chicago, IL Chicago Theatre
06/16/12 New York, NY Beacon Theatre (Early Show)
06/16/12 New York, NY Beacon Theatre (Late Show)
06/22/12 Meyerhoff Theater (Early Show) Baltimore, MD
06/22/12 Meyerhoff Theater (Late Show) Baltimore, MD
06/23/12 Merriam Theater (Early Show) Philadelphia, PA
06/23/12 Merriam Theater (Late Show) Philadelphia, PA
06/28/12 Schnitzer Hall Portland, OR
06/29/12 The Paramount (Early Show) Seattle, WA
06/29/12 The Paramount (Late Show) Seattle, WA
06/30/12 Orpheum Theatre Vancouver, BC
07/06/12 Sony Center (Early Show) Toronto, ON
07/06/12 Sony Center (Late Show) Toronto, ON
07/07/12 NAC Center (Early Show) Ottawa, ON
07/07/12 NAC Center (Late Show) Ottawa, ON
07/13/12 The Music Box at Borgata (Early Show) Atlantic City, NJ
07/13/12 The Music Box at Borgata (Late Show) Atlantic City, NJ
07/18/12 Nob Hill Masonic Center San Francisco, CA
07/19/12 Center For The Performing Arts San Jose, CA
07/20/12 Nob Hill Masonic Center (Early Show) San Francisco, CA
07/20/12 Nob Hill Masonic Center (Late Show) San Francisco, CA
07/21/12 Paramount Theater (Early Show) Denver, CO
07/21/12 Paramount Theater (Late Show) Denver, CO