Catalpa Festival at Randall's Island (July 28-19, 2012)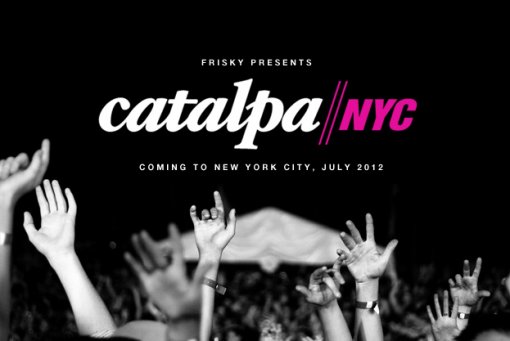 Early Bird tickets are on sale now, for the inaugural Catalpa Festival at Randall's Island in NYC. Headliners for this new two day summer festival include The Black Keys, Snoop Dogg and TV On The Radio.
Catalpa – New York City's Music Festival

The inaugural Catalpa Festival is coming to New York City on July 28th + 29th 2012 from 1pm to 11pm and is lining up to be the year's most unique and original music and lifestyle event. Taking place on the remarkable Randall's Island, just to the Eastern side of Manhattan, the festival is set beautifully to the backdrop of the world's most famous skyline.

Catalpa is about creating a truly authentic, fresh and unique musical experience featuring over 50 artists that traverse many styles and genres from rock and indie to hip-hop, reggae and the world of electronic music.

For Frisky as event producers, creating an enhanced setting and original event experience far beyond the standard is the basis of how we operate. We strive to provide not only the very best of the basic elements but also to create a visual and aesthetic overload that further enhances this already stunning setting by developing thought provoking art installations, bespoke event structures and enough unique elements to transform people out of the city and into a world more fantastic.

This is Catalpa, a festival experience that music fans can appreciate for its genuine diversity, uniqueness and style. [catalpanyc.com]
More of the announced Catalpa Festival artists after the jump. (Apparently there will be 50 artists when the final lineup is done.)
Initial 2012 Catalpa Festival Lineup
THE BLACK KEYS
SNOOP DOGG PLAYING DOGGY STYLE
TV ON THE RADIO • UMPHREY'S MCGEE
CITY AND COLOUR • THE BIG PINK
AraabMUZIK • FELIX DA HOUSECAT
FORT ATLANTIC
More artists to be announced soon.