Nite Jewel at The FADER Fort at SXSW (03/15/12)


Photo: Chris Becker
LA's Ramona Gonzalez, aka Nite Jewel, headed into SXSW hot on the heels of the release of her second LP, One Second of Love, which came out on March 6. Here's what the LA Times Pop and Hiss blog had to say about one of the band's many performances at SXSW. (This review is from the Force Field PR/Terrorbird day party on March 14, NOT from her FADER Fort set.):
Backed by a three-piece band (live drummer, guitarist and keyboardist), Gonzalez revealed how fluidly she's distilled her influences: New wave, Italo-disco, funk and perhaps a little Patrice Rushen and Stevie Nicks. Twenty-four months ago, she was a college student masking awkwardness with sardonic banter. Now she was almost swaggering, offering opoid hymns that possessed a bewitching beauty and power.

When the band members detonated into quasi-hit "What Did He Say," they brought thunderous snares and baleful black tar funk. It was the sort of performance you'd expect to see after turning a candelabra and being thrust into a room where everyone's wearing gorgeous antique designer outfits and smoking unfiltered Gauloises laced with hash. Except they were unpretentiously clad in T-shirts, jeans and hoodies. The music had mystery but lacked pretension. Noirish tension and corruscating light. Nite Jewel. [LATimes.com]
Nite Jewel is currently on tour with Chairlift in support of One Second of Love, but she'll be headlining her own show at the Bowery Ballroom on Apr 24 (Buy Tickets).
More tour dates, a streaming single, and more pictures of Nite Jewel from The FADER Fort at SXSW 2012 after the jump.
Nite Jewel at The FADER Fort at SXSW by Chris Becker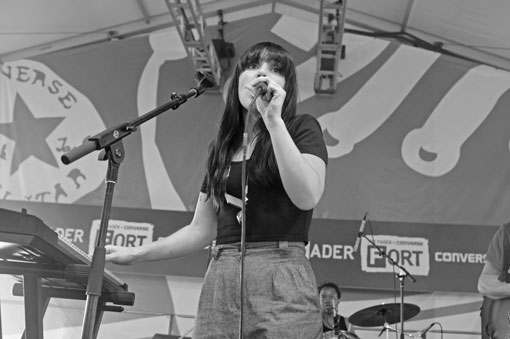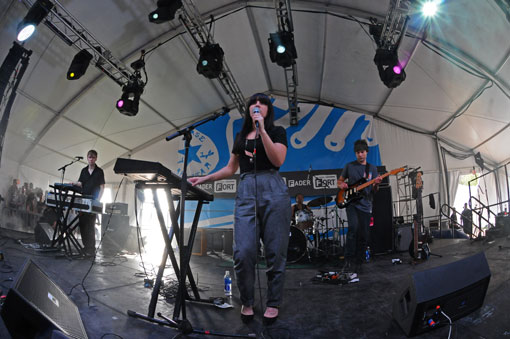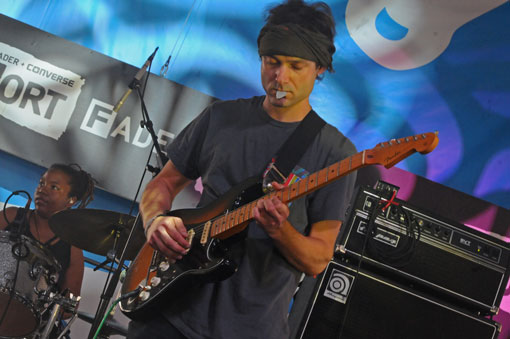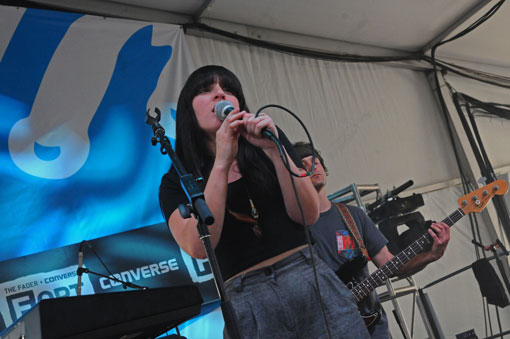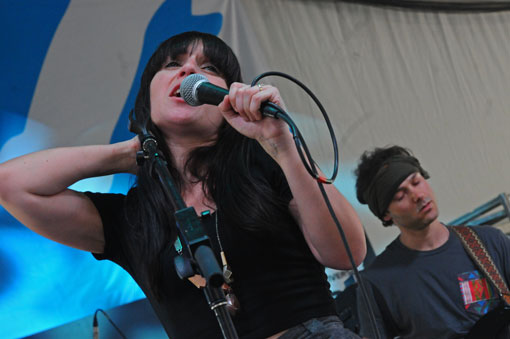 Nite Jewel Tour 2012 Dates
03/26/12 Boston, MA Brighton Music Hall
03/27/12 Montreal, Quebec Il Motore
03/28/12 Toronto, Ontario Legendary Horseshoe Tavern
03/29/12 Detroit, MI Magic Stick
03/30/12 Chicago, IL Empty Bottle
03/31/12 Minneapolis, MN Triple Rock Social Club
04/03/12 Denver, CO Larimer Lounge
04/04/12 Salt Lake City, UT Urban Lounge
04/06/12 Vancouver, British Columbia Electric Owl
04/07/12 Seattle, WA The Crocodile
04/08/12 Portland, OR Doug Fir Lounge
04/10/12 San Francisco, CA The Independent
04/11/12 West Hollywood, CA Troubadour
04/12/12 San Diego, CA The Casbah
04/14/12 Phoenix, AZ The Crescent Ballroom
04/16/12 Dallas, TX Club Dada
04/17/12 Austin, TX The Mohawk
04/18/12 New Orleans, LA One Eyed Jacks
04/19/12 Atlanta, GA The Earl
04/20/12 Chapel Hill, NC Local 506
04/21/12 Washington, DC U Street Music Hall
04/22/12 Philadelphia, PA Johnny Brenda's
04/24/12 New York, NY Bowery Ballroom
04/26/12 Miami, FL Bardot