Alabama Shakes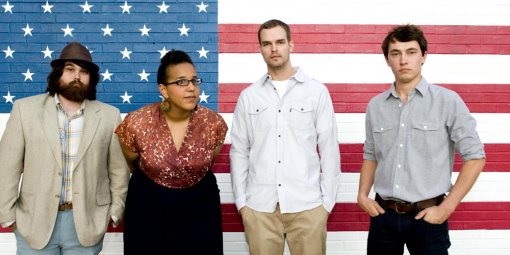 Words: Drake Lelane
Alabama Shakes dish some soulful rock on their debut release.There's plenty of post-Easter, post-Passover new releases to sneeze at as you reach for the Clariton amidst all the bloomage (YOU SWORE, NO MORE FLOWER METAPHORS!). It's Spring Break somewhere, so pop in a few of these tasty offerings in your portable media player choice (is it any wonder folks will write 'iPod' even if they don't own one?) and lie back in the break destination of your choice. I'm off to San Jose del Cabo, myself, for a few days of carpel tunnel recovery rest and relaxation from all this unemployment I've been filling my day with. Highlights this week include the anticipated debut from Alabama Shakes, and the latest from M. Ward, Amandou & Miriam, Graham Coxon, Black Dice, Choir of Young Believers, Emily Wells, Grand Duchy, Pelican, Eternal Smmers, Alex Winston, Dinosaur Feathers, Sleepy Sun and a compelling collaboration between Trembling Bells and Bonnie "Prince" Billy.
Playlist: New Releases 04.10.12: Spotify
---
Alabama Shakes – Boys & Girls [Insound]
Stream or mp3 purchase via Google Play / iTunes / Stream via Rhapsody / Stream via Spotify
The Muscle Shoalsish rock and soul of Alabama Shakes has been the talk of the music industry leading up to and since last month's SXSW music festival in Austin, so to say that their debut was anticipated is a bit of an understatement. Their live shows have become revivals of sorts, building audiences into sweat-infused calls of "Amen." While on the surface, their debut does nothing to disappoint in its content and execution, but you still can't feel like something is missing. All the buzz around the quartet is behind its energetic live shows, and Boys & Girls, while perfunctory in content and execution, feels like it's missing some of the fire that their stage performances have. Since B&G was recorded before all the buzz and industry build up, their debut perhaps serves as a sort of prequel to the real thing, and in that regard, it's a perfectly good introduction to the band. "You Ain't Alone" is the centerpiece of the album, with singer Brittany Howard's throaty delivery begging and pleading the listener onto their knees, as close to an approximation to their live show as we'll get. All told, B&G is fine album that only buckles a bit under elevated expectations.
---
M. Ward – A Wasteland Companion
Purchase [Stream or mp3 purchase via Google Play] / iTunes / Stream via Rhapsody or Stream via Spotify
If 2006's Post-War may have seemed like M. Ward's breakthrough release, but looking back, that was just for those who follow indie rock (basically, those who matter — am I right?). It's his side projects that have garnered the most attention, first as the instrument of She & Him with Zooey Deschanel, and then as part of the supergroup of sorts, Monsters of Folk (with Coner Oberst, Jim James and Mike Mogis). Add to that all the sideman work (he's also played with Norah Jones, Neko Case, Bright Eyes, Jenny Lewis) and production and it's hard to imagine Ward's spent more than a minute alone in the last decade (which is really something considering how introverted Ward seemed when he first came on the scene). So it's no surprise that his latest solo release is like a parade of guest stars (18 in total), featuring Zooey Deschanel, Steve Shelley (Sonic Youth), Howe Gelb, Mike Mogis, Tobey Leaman (Dr. Dog), Tom Hagerman (Devotchka) among others. As such, A Wasteland Companion is stylistically all over the place, yet under the steady hand of Ward's production, it all comes across organic and, well… very M. Wardish. Highlights include the Zooey Deschanel duet and Daniel Johnston cover "Sweetheart" (someone should get Johnston and Deschanel together for a wide-eyed quirk-off), the easy picked/strum of opener and Big Star name check "Clean Slate (for Alex & El Goodo)" and the breezy "The First Time I Ran Away" (video below).
---
More on the radar (and in the mp3 player) this week:
Graham Coxon – A+E [Insound]
Trembling Bells & Bonnie "Prince" Billy – The Marble Downs [emusic]
Amadou & Mariam – Folia [emusic] / Free AOL Album Stream
Black Dice – Mr. Impossible [emusic] / "Pinball Wizard" [Soundcloud]
Choir of Young Believers – Rhine Gold [Google Play]
Pelican – Ataraxia/Taraxis [Google Play] / Free AOL Album Stream / "Lathe Biosas" [mp3]
Emily Wells – Mama [Google Play] / "Passenger" [mp3]
Grand Duchy – Let the People Speak [Google Play] / "Silver Boys" [mp3 via Facebook]
Eternal Summers – Dawn of the Eternal Summers [Google Play]
Dinosaur Feathers – Whistle Tips [Google] / Free AOL Album Stream
Alex Winston – King Con [Google Play]
Sleepy Sun – Spine Hits [Google Play]
Florence + the Machine – MTV Unplugged [Google Play]
Zambi – House of Baasa [Google Play]