Undead Music Festival (May 9-12, 2012)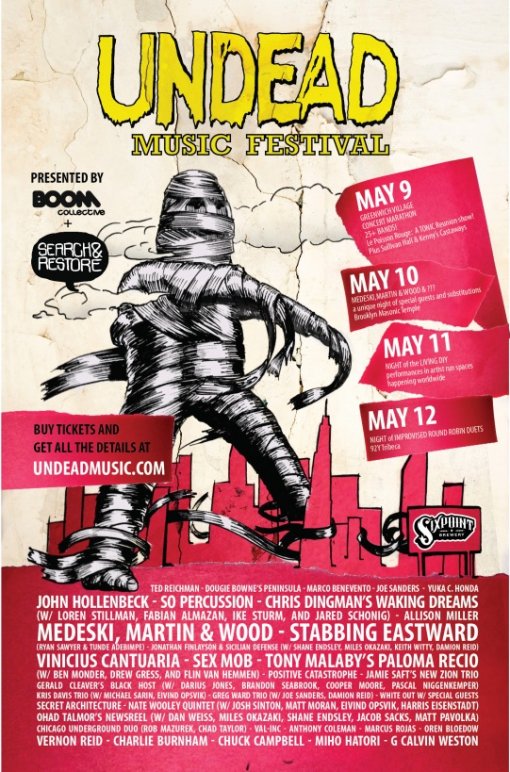 Win Tickets to May 9 LPR Show | Buy Tickets
Lovers of eclectic jazz music rejoice, the 2012 Undead Music Festival is almost upon us. The festival runs from May 9-12 and kicks off on Wednesday with a marathon night of concerts in the village.
FOUR NIGHTS celebrating the incredible, dynamic, explosively creative jazz, instrumental, and adventurous music being made in New York City.

May 9th: A Marathon of Concerts in Greenwich Village
May 10th: Medeski, Martin & Wood & ? at Brooklyn Masonic Temple, featuring So Percussion, Steven Bernstein, Vernon Reid & more!!
May 11th: Night Of The Living DIY in Brooklyn, Seattle, Norway & more…
May 12th: Improvised Round Robin Duets at 92Y Tribeca
Lovingly and tirelessly organized by Adam Schatz of Search & Restore and Brice Rosenbloom of BoomCollective. [undeadmusic.com]
In celebration of the 2012 Undead Music Fest, I'm giving away a pair of tickets to the Wednesday night (May 9) TONIC reunion show at LPR featuring Sex Mob, Vinicius Cantuaria, yuka C. Honda, Elysian Fields, White Out, Stabbing Eastward w/ Ryan Sawyer and Tunde Adebimpe, Chicago Underground Duo, Tony Malaby, Gerald Cleaver, and Jamie Saft's New Zion. If you'd like to enter to win tickets to the show, go to www.bumpershine.com/undead, contest ends May 8 (Wednesday night) at midnight, winner will be notified promptly. If you don't end up winning the contest, you can still buy tickets to the show over here.
View the full schedule for the 2012 Undead Music Festival at undeadmusic.com.