Hannibal Buress – Animal Furnace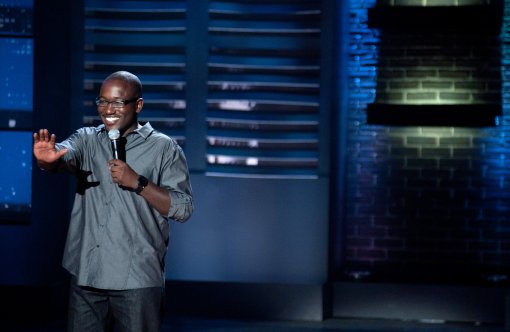 Buy It | Win It
Funny man and friend of Bumpershine, Hannibal Buress, has a brand new one hour Comedy Central called Animal Furnace, which comes out on DVD today (Tuesday, May 22).
The "Hannibal Buress: Animal Furnace" extended and uncensored DVD, featuring 20 minutes of material not seen in the broadcast, will be released on May 22 by COMEDY CENTRAL Home Entertainment. The bonus features include "A Week To Kill," a behind-the-scenes documentary that takes a look at how Buress spent the week before the filming of the comedy special.
In addition, COMEDY CENTRAL Records will release the extended and uncensored "Hannibal Buress: Animal Furnace" CD on May 22.

While making the special, Buress shot a documentary, "A Week To Kill" which documents the week leading up to the taping of Animal Furnace as Buress hits comedy clubs to put final touches on his setlist, makes morning radio appearances, listens to encouraging voicemails from Chris Rock, gets his phone stolen, talks to his parents, and everything else the up-and-coming comedian goes through before heading to NYC to record his special.
If that glowing press release blurb wasn't enough to make you run out and buy your very own copy of Animal Furnace today, then surely there is no convincing you. However, if you're not ready to pony up the dough just yet, but you'd still like to own a copy of Animal Furnace, you can enter to win a DVD at bumpershine.com/hannibal. Contest ends May 25 at 11:59 59 PM, US entrants only, 1 entry per person, 1 bonus entry for each person that enters through a shared Facebook or Twitter link. (I recommend buying a copy today and then entering the contest anyway, if you're the lucky winner, you can always give away you're second copy as a gift.)
If you live in NYC, you can catch Hannibal at the Knitting Factory in Brooklyn on Sunday nights where he hosts his popular weekly comedy show. On June 24, Hannibal will headline "COMEDY CENTRAL Live Presents: Hannibal Buress," a free outdoor show in Brooklyn's Red Hook Park which will also feature comedians Kevin Barnett and Josh Rabinowitz.
Animal Furnace widget and more Hannibal Buress tour dates after the jump.
Hannibal Buress Tour Dates
May 24 – 26, 2012
Comix Foxwoods
Mashantucket, CT
June 6, 2012
The New Movement Theatre
New Orleans, LA
June 14, 2012
Park West
Chicago, IL
June 19, 2012
The Comic Strip
Edmonton, AB
June 20, 2012
Sled Island Festival
Calgary, AB
June 21, 2012
Park Theatre
Winnipeg, MB
June 22, 2012
Horseshoe Tavern
Toronto, ON
June 23, 2012
The Palace Theatre
London, ON
June 24, 2012
Comedy Central in the Park
Brooklyn, NY
June 27 – 30, 2012
Cap City Comedy
Austin, TX
July 19 – 21, 2012
The Comedy Attic
Bloomington, IL
August 3 – 27, 2012 2012
Edinburgh Fringe Festival
Edinburgh, UK