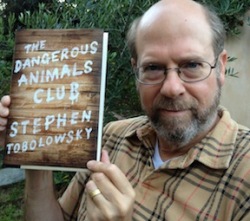 Hey folks, some of you may remember back in February of this year, I produced a live version of The Tobolowsky Files at The Bell House in Brooklyn. Well, that show, which grew out of the charming film, Stephen Tobolowsky's Birthday Party, has also spawned an excellent new book entitled, The Dangerous Animals Club, which hits bookstores today (Sep 25). But wait, that's not all, The Tobolowsky Files, which many of you know and enjoy as a podcast, will be soon coming to a public radio station near you via PRI. Here's a little more from podcast host David Chen's recent Slashfilm.com post:
Now Public Radio International, which distributes hit radio shows such as This American Life, has entered into an agreement with Stephen and I to produce and distribute a brand new radio show based on "The Tobolowsky Files." The new show will feature many of Stephen's great stories, but in a new, professional format that will make them more accessible than ever. I can't say what the future will hold for our show, but our hope is that "The Tobolowsky Files" will be coming soon to a public radio station near you. [slashfilm.com]
If you're like me, and you're excited about the Dangerous Animals Club, then by all means, run out to your local bookstore and buy it today (or get it on your Kindle, Nook, etc.). If you'd perhaps like to win your very own copy of the book, you can go to www.bumpershine.com/dangerous and try your luck. No purchase necessary. Contest ends on Oct 2 at 11:59 59 PM ET, 1 entry per person.
Stephen wrote a good post about the making of the book over here.
View a bunch of promotional videos for The Dangerous Animals Club after the jump.
PS Despite my best efforts, we weren't able to bring the live Tobolowsky Files back to NYC for the book launch. Don't be too discouraged though, we're still looking to the not so distant future for a return date. Stay tuned!