Ra Ra Riot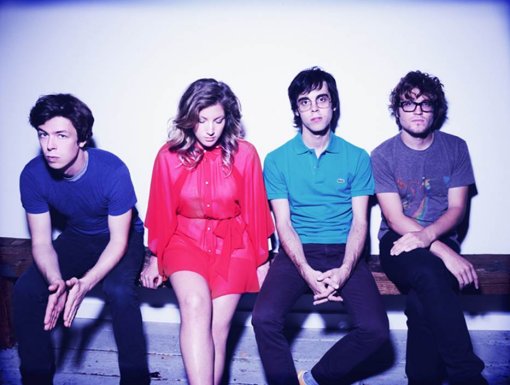 Boom. Just like that, a new album and new tour dates. Ra Ra Riot, the Syracuse-come-Brooklyn quartet, have just announced their third LP, the William Gibson (he's Canadian)/ Raymond Kurzweil inspired Beta Love. Beta Love is set to drop on January 22 on Barsuk Records and the band will be playing a hometown record release show on January 25 at Webster Hall (Buy Tickets). It will be interesting to hear what the band has put together on the new album considering it was recorded without the services of long time cellist (and sometime singer) Alexandra Lawn. I can only assume that they will tour with both a cellist and a drummer (maybe session drummer Josh Freese) when the band hits the road in November.
Inspired by their lean new lineup, the recording process found Ra Ra Riot's members exploring and re-defining their roles within the new makeup of the group. They built upon demos created mostly by Miles and producer Dennis Herring (Modest Mouse, Elvis Costello, Wavves) at Sweet Tea Studios in Oxford, MS. For the first time in their history the band recorded in a warmer climate and found themselves stimulated by the balmy Southern air and the physical setting of Oxford. Joined by session drummer Josh Freese (Devo, Nine Inch Nails, Weezer) the band enjoyed exploring its potential, experimenting with new influences and exciting sounds.

Mathieu said of the sessions, "Making the record was a lot of fun for us, because we were in a completely different environment, trying a completely new approach. We'd been used to arriving at a session with every song totally arranged and figured out, but in Oxford, a lot of the creative decision-making happened in the studio, on the fly. We wanted to be outside of our collective comfort zone for this record. We wanted to be open to new things happening. There was a lot of building up and tearing down with Dennis—a lot of problem solving, a lot of trial and error, and that was really exciting for us."
Ra Ra Riot Beta Love track list and new tour dates after the jump.
Ra Ra Riot – Beta Love
1. Dance with Me
2. Binary Mind
3. Beta Love
4. Is It Too Much
5. For Once
6. Angel, Please
7. What I Do For U
8. When I Dream
9. That Much
10. Wilderness
11. I Shut Off
Ra Ra Riot 2012-2013 Tour Dates
11/02 Sol Vassar College Chapel Poughkeepsie, NY
11/14 Setnor Auditorium @ Syracuse University Syracuse, NY
11/28 Lupo's Providence, RI*
11/29 Liacouras Center Philadelphia, PA+
12/8 Chameleon Lancaster, PA#
12/9 Arch Street Tavern Hartford, CT#
12/11 Upstate Concert Hall Clifton Park, NY#
12/12 Mohawk Place Buffalo, NY#
12/13 Haunt Ithaca, NY#
01/23 9:30 Club Washington, DC
01/25 Webster Hall New York, NY
01/26 Paradise Boston, MA
02/02 Hostess Club Weekender Tokyo, Japan§
02/03 Hostess Club Weekender Tokyo, Japan§
02/07 Venue Vancouver, BC
02/08 Neptune Theater Seattle, WA
02/09 Wonder Ballroom Portland, OR
02/11 Fillmore San Francisco, CA
02/12 El Rey Los Angeles, CA
02/15 Belly Up Solana Beach, CA
02/16 Club Congress Tucson, AZ
02/17 Lowbrow Palace El Paso AZ
02/19 Kessler Theater Dallas, TX
02/20 The Belmont Austin, TX
02/21 Fitzgerald's Houston, TX
02/23 Proud Larry's Oxford, MS
02/24 Masquerade Atlanta, GA
02/25 Cat's Cradle Carrboro, NC
02/26 Grey Eagle Asheville, NC
02/28 A&R Music Bar Columbus, OH
03/01 Metro Chicago, IL
03/02 Der Rathskeller Madison, WI
03/03 Triple Rock Minneapolis, MN
03/05 Blind Pig Ann Arbor, MI
03/06 Lee's Palace Toronto, ON
03/07 Il Motore Montreal, QC
03/08 Higher Ground S. Burlington, VT
03/09 Pearl Street Northampton, MA
* with Passion Pit and Joy Formidable
+ with Passion Pit
# with Guards
§ with Vampire Weekend & Ultraista