Big Splash at McCarren Park Pool (06/25/13)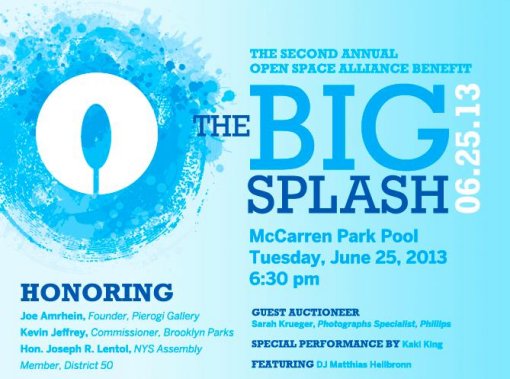 Open Space Alliance for North Brooklyn works with the NYC Department of Parks & Recreation, elected officials, Community Board 1, and volunteers to improve parks in North Brooklyn. They are having their second annual "Big Splash" gala fundraiser event tonight (06/25) at McCarren Park Pool.
There are a limited number of tickets available for our 2nd Annual Gala at McCarren Pool. Join us as DJ Matthias Heilbronn opens for guitarist/composer Kaki King and we honor Pierogi Gallery founder Joe Amrhein, NY State Assemblymember Joe Lentol and Brooklyn Parks Commissioner Kevin Jeffrey. Proceeds from the event will be dedicated to maintaining and improving all North Brooklyn parks from McCarren to McGolrick to Cooper to Sternberg.