4Knots Music Festival Festival (06/29/13)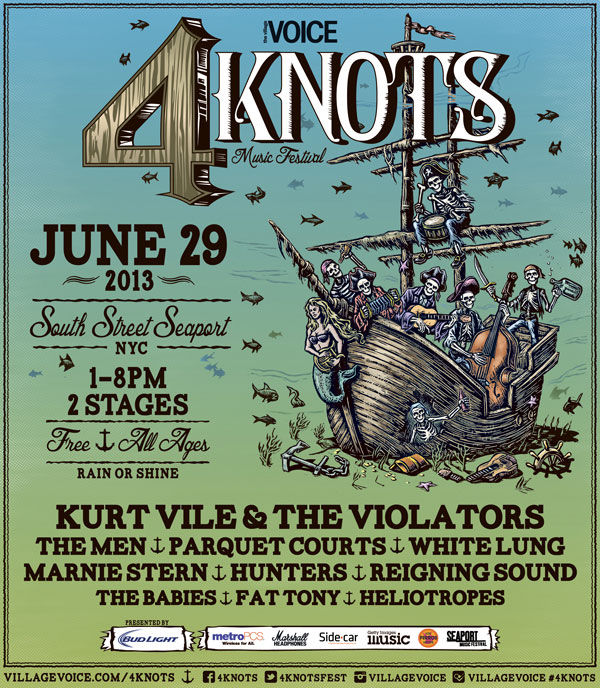 Hey folks, in case you forgot (like I almost did), the annual 4Knots Music Festival is today (June 29) at Pier 16 & Pier 17 at the South Street Seaport from 1-8PM. New York-based guitarist Steve Gunn was recently added to the lineup.
New York, NY – June 26, 2013 – The Village Voice will kick off their annual free 4Knots Music Festival this Saturday, June 29 from 1-8pm at South Street Seaport, rain or shine. The festival welcomes Steve Gunn to their previously announced festival lineup of Kurt Vile & The Violators, The Men, Parquet Courts, White Lung, Marnie Stern, Hunters, Reigning Sound, The Babies, Fat Tony, and Heliotropes. The sold-out After Party featuring LIL B and special guests Clams Casino and Keyboard Kid will be held at The Music Hall of Williamsburg immediately following the daytime 4Knots Music Festival. Set times for the festival will be announced on the morning of the festival on VillageVoice.com.
…
In addition to the 11 bands slated for the festival, 4Knots 2013 will also feature Free Wi-Fi all day sponsored by GroupMe, Free Bike Valet by Transportation Alternatives sponsored by New York Health & Racquet Club, a Free Phone Charging Station sponsored by City University of New York School of Professional Studies, a Free Photo Booth sponsored by Bettie Page Clothing and more!