"Another Day, Another Time," Celebrating the Music of "Inside Llewyn Davis"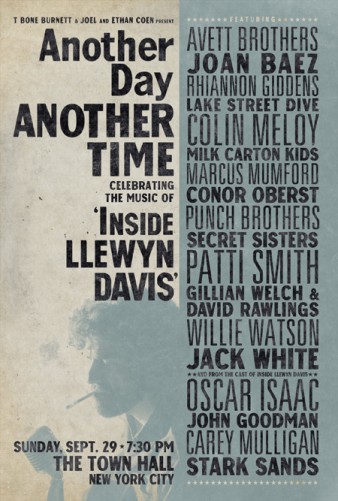 Joel and Ethan Coen, T Bone Burnett, and Scott Rudin announced today a benefit concert entitled Another Day, Another Time: Celebrating the Music of "Inside Llewyn Davis," which will take place at The Town Hall in New York City on Sunday, September 29, 2013. The concert is inspired by music from the upcoming Coen Brothers' film, Inside Llewyn Davis, which is set in the 1960's Greenwich Village folk music scene. A portion of the proceeds from the concert will benefit the National Recording Preservation Foundation.
…
Inside Llewyn Davis follows a week in the life of a young folk singer as he navigates the Greenwich Village folk scene of 1961. Llewyn Davis (Oscar Isaac) is at a crossroads. Guitar in tow, huddled against the unforgiving New York winter, he is struggling to make it as a musician against seemingly insurmountable obstacles—some of them of his own making. Living at the mercy of both friends and strangers, scaring up what work he can find, Llewyn's misadventures take him from the baskethouses of the Village to an empty Chicago club—on an odyssey to audition for a music mogul—and back again.
Tickets for the Sep 29 Town Hall show, which features musical acts including Joan Baez, Marcus Mumford, Patti Smith, Avett Brothers, Punch Brothers, Colin Meloy, Jack White and more are on sale now. Nonesuch Records will release the soundtrack to Inside Llewyn Davis on Tuesday, Nov 12, 2013. Inside Llewyn Davis opens in theatres on Dec 6, 2013.