Art Basel Miami Beach takes place from December 7 – 10, 2006. The international art show in Miami Beach (Florida) is the American sister event of Art Basel in Switzerland, the most important annual art show worldwide for the past 37 years. Art Basel Miami Beach is a new type of cultural event, combining an international art show with an exciting program of special exhibitions, parties and crossover events including music, film, architecture and design. Exhibition sites are located in the city's beautiful Art Deco District, within walking distance of the beach and most hotels and restaurants. [Art | Basel Official Site]
This year, Devendra Banhart will be performing live at Deitch Projects. As far as I can tell, this is happening tonight (December 7) at 8PM.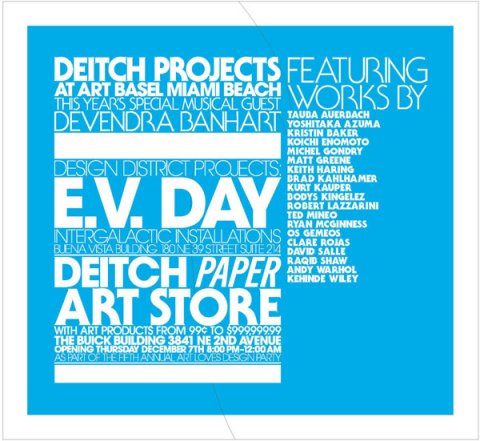 Sweat Records Miami has some more details about what is happening during the week of the art fair. According to them, Peaches played a free show yesterday and the Brazilian Girls perform live at the Pawn Shop on Sunday.