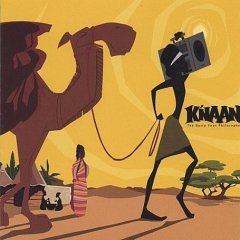 While we normally don't post too much about reggae around here, it is worth mentioning that the Somali-Canadian hip-hop artist K'naan will be passing through town tonight supporting Stephen and Damian "Junior Gong" Marley at the Nokia Theatre. Regular readers may remember that we posted about K'naan way back in May of 2006 (almost a year to this day), here's what I said then:
As a child, K'naan survived the civil war in Mogadishu, Somalia and he now makes his home in Rexdale, Ontario. K'Naan's music incorporates Somalia's traditional myths and contemporary history with his own experiences as a refugee and artist in North America.
K'naan's debut album The Dusty Foot Philosopher has been available as an import on Track and Field for some time now, sources tell me it is set for domestic release in the near future.
Here's a few Mp3's: Soobax (live), Strugglin' (live), In the Beginning (live)
K'naan Tour Dates
May 12 – Philadelphia, PA – Theatre of the Living Arts
May 13 – Baltimore, Rams Head Live
May 15 – Toronto, ON – Phoenix Concert Theatre
May 17 – Windsor, ON – Chrysler Theater
May 18 – Atlanta, GA – The Roxy
May 19 – Saint Petersburg, FL – Jannus Landing
May 20 – Orlando, FL – House of Blues
What Else Is Up Tonight?
As usual, there is no shortage of things to do tonight. Here's what else I think is worth checking out: The Kooks at Irving Plaza, The Polyphonic Spree at The Hammerstein Ballroom (High Line Festival), The Mountain Goats at Soundfix Records (John Darnielle solo set), and fellow Canadians Sloan at Southpaw.