My Aim Is True Hip-O Reissue
Elvis Costello's classic 1977 debut "My Aim Is True" will be the first original album reissued in expanded form as part of a new catalog campaign by Hip-O/UMe, Billboard.com can reveal. Due Sept. 11, the "Deluxe Edition" of the project features 48 tracks across two discs, including 29 previously unreleased or new-to-CD bonus songs.[Billboard.com]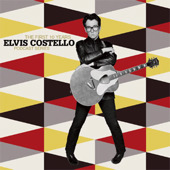 Elvis Costello Podcast: The First Ten Years Podcast Series
The "Elvis Costello Podcast" is a ten part weekly series highlighting the first ten years of Mr. Costello's career. Join Elvis as he talks of his childhood, musical influences, singing, songwriting, changing his name, recording, Nick Lowe, the Attractions, the hits, the misses, getting arrested and more! The First Ten Years podcasts are available on iTunes now and will continue to be aired weekly through August 21. Click here to subscribe.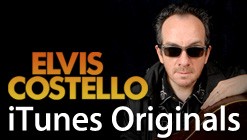 Elvis Costello Originals Performance Session on Itunes
The album is a collection of EC's songs and spoken notes.
Elvis Costello iTunes Originals track list below.
Elvis Costello iTunes Originals Track List
1 It Was Recorded Almost By Accident
2 Watching the Detectives
3 It Was the Ballad of This Year's Model
4 Little Triggers (iTunes Originals Version)
5 It Has Mick Jones of the Clash Playing Guitar
6 Big Tears
7 It Was About People Meeting In the Night At a Hotel, Not a Complicated Story
8 Motel Matches (iTunes Originals Version)
9 It's a More Regretful Song
10 Riot Act
11 It Was More the Expression Came to Mind
12 Kid About It (iTunes Originals Version)
13 I Told a Tale, Which You Have to Listen to the Lyrics
14 Man Out of Time
15 An Example of One of Those Songs That Nearly Got Away
16 Love Field (iTunes Originals Version)
17 The Main Body of the Song Is Very Repetitive, It's Supposed to Be Like That
18 I Want You
19 I'm Glad to Get the Opportunity to Put the Word to the Fore
20 Invasion Hit Parade (iTunes Originals Version)
21 It's Kind of a Gospel Song
22 Bedlam (Nashville Alternate Version)
23 It's More of the Idea That We Are In a Flow Towards a Way of Living
24 The River In Reverse (iTunes Originals Version)
– via the Costello-l