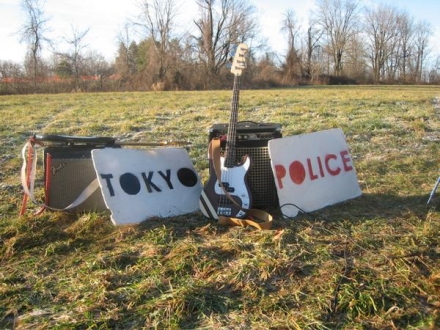 Although already signed to Paperbag Records in Canada (Uncut, You Say Party, We Say Die) Tokyo Police Club have officially announced that they've signed with Saddle Creek Records in the US.
via MySpace:
We are also thrilled to announce that Tokyo Police Club has a new home (not literally although we are in the market for some new apartments so let us know) We have just signed to Saddle Creek Records home of such amazing artists as Bright Eyes, Cursive, The Faint, Two Gallants, and Maria Taylor Saddle Creek Records

Lastly, we've announced a bunch of new tour dates including a return to LA to headline the famed El Rey Theatre!
All TPC tour dates below.

Tokyo Police Club Tour Dates
Jul. 23, 2007 The Independent – San Francisco, CA
Jul. 25, 2007 Troubadour – West Hollywood, CA
Jul. 26, 2007 Beauty Bar – San Diego, CA
Jul. 27, 2007 Anderson's Fifth Estate – Scottsdale, AZ
Jul. 28, 2007 ED Fest – Edmonton, AB
Jul. 29, 2007 Emo's – Austin, TX
Jul. 30, 2007 Meridian Red Room – Houston, TX
Jul. 31, 2007 Cambridge Room @ HOB – Dallas, TX
Aug. 1, 2007 The Repubilc – New Orleans, LA
Aug. 2, 2007 Vinyl – Atlanta, Georgia
Aug. 4, 2007 Lollapalooza – Chicago, IL
Aug. 5, 2007 Grande Cache – Grande Cache, AB
Aug. 7, 2007 Rock & Roll Hotel – Washington, DC
Aug. 8, 2007 Sonar – Baltimore, MD
Aug. 9, 2007 Johnny Brenda's – Philadelphia, PA
Aug. 10, 2007 Bowery Ballroom – New York, NYSold out
Aug. 11, 2007 Maxwell's – Hoboken, NJSold out
Aug. 12, 2007 Middle East Downstairs – Boston, MA
Aug. 13, 2007 Bowery Ballroom – New York, NY
Aug. 13, 2007 Bowery Ballroom – New York, NY
Aug. 19, 2007 The Social – Nottingham, UK
Aug. 20, 2007 Thekla Social – Bristol, UK
Aug. 21, 2007 Dingwalls – London, UK
Aug. 22, 2007 Soul Tree – Cambridge, UK
Aug. 23, 2007 Night & Day Cafe – Manchester, UK
Aug. 25, 2007 Reading Festival – Reading, UK
Aug. 26, 2007 Leeds Festival – Leeds, UK
Aug. 31, 2007 McEwan Ballroom – Calgary, AB
Sep. 2, 2007 The Plaza – Vancouver, BC
Sep. 3, 2007 Bumbershoot Festival – Seattle, WA
Sep. 9, 2007 Virgin Festival – Toronto Islands
Oct. 9, 2007 7th St. Entry – Minneapolis, MN
Oct. 11, 2007 Pyramid Cabaret – Winnipeg, MB
Oct. 12, 2007 Louis' Pub @ SU – Saskatoon, SK
Oct. 13, 2007 Starlite Room – Alberta
Oct. 16, 2007 Sugar Nightclub – Victoria, BC
Oct. 19, 2007 Doug Fir Lounge – Portland, OR
Oct. 22, 2007 Beauty Bar – Las Vegas, NV
Oct. 23, 2007 The El Rey Theatre – Los Angeles, CA
Oct. 24, 2007 The Glass House – Pomona, CA