Bat for Lashes @ The Knitting Factory – July 25, 2007 (CRED)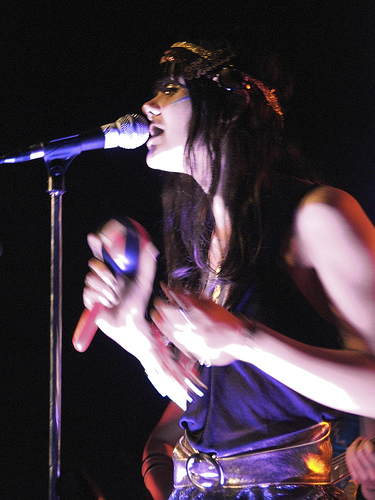 Bat for Lashes played the Knitting Factory on Wendesday night and while she was in town she also performed three songs live in the studio on PRI's Fair Game. Bat for Lashes debut album Fur and Gold is due out in the US next week and has already been nominated for the Mercury Prize.
Fair Game Setlist
I'm On Fire (Free iTunes Link)
The Wizard (Free iTunes Link)
Whats A Girl To Do (Free iTunes Link)
Once again Live on Fair Game continues to bring excellent artists to the studio, recent guests have included Blitzen Trapper, Fionn Regan, St. Vincent, Nick Lowe and They Might Be Giants.
Bat For Lashes Tour Dates
07/28/07 – 7th St Entry – Minneapolis MN
07/30/07 – Cafe Du Nord, San Francisco CA
07/31/07 – Spaceland – Los Angeles CA
08/11/07 – Field Day 2007, Victoria Park London.
08/26/07 – Rock en Seine, Paris
09/01/07 – Connect Festival, Inveraray
09/02/07 – Electric Picnic, Stradbally
09/09/07 – Bestival, Isle of Wight 2:30pm Main Stage
UPDATE: Eric Earley of buzz band du jour Blitzen Trapper played live on Fair Game the following day. Here are the tracks: