Back, by popular demand, Fashion Rocks 2007 seatfilling information.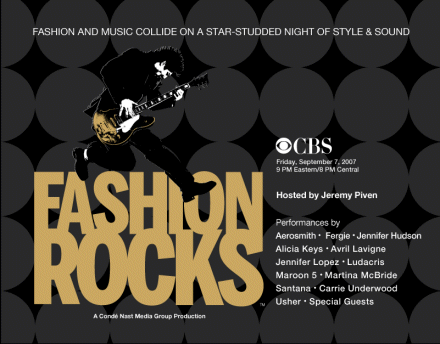 From the good folks at TVAudiences.tv:
We are currently offering the opportunity to be a Seatfiller at the FASHION ROCKS concert special taking place at Radio City Music Hall on Thursday, September 6th, 2007. Join us when Fashion and Music Collide on a Star-Studded Night of Style and Sound!
As in the past, this is a major show – with "A" list performances by Aerosmith, Fergie, Jennifer Hudson, Alicia Keys, Avril Lavigne, Jennifer Lopez, Ludacris, Maroon 5, Martina McBride, Santana, Carrie Underwood, Usher and special surprises. The show will be hosted by Entourage's Jeremy Piven.
As always, this offer is FREE.
Arrival time: TENTATIVELY 5:00pm
Dress Code: Concert attire – Casual/Hip "Fashionable"
Age: You must be 18 years or older
For more info on what it is to be a seatfiller, please visit www.TVaudiences.tv.
YOU CAN REGISTER TO BE A SEATFILLER FOR FASHION ROCKS ONLY AT THE FOLLOWING LINK:
www.mailermailer.com/x?oid=1003154z
Be sure to set your spam settings to allow for mail from Seatfillers@aol.com and FashionRocksAud@aol.com.
By signing up, you are NOT confirmed to attend. Those confirmed will be sent an email approximately one week before the show.