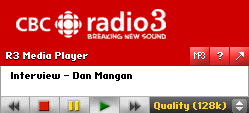 Hey music fans, if you're a regular reader of this site, chances are you may also tune in to the CBC Radio 3 Podcast with Grant Lawrence. Well, if you answered yes to both of those of questions, then you'll be happy to hear that CBC Radio 3 is now broadcasting live on the web, 24/7*. You can tune in to the new web radio station at radio3.cbc.ca and listen via the embedded music player on their home page, or you can launch an mp3 stream and listen via iTunes (or your favorite mp3 software) by clicking the MP3 button at the top of their flash player (as a side note, the mp3 feed did not work for me).
The schedule for the web station is here.
* This is not simply the same feed as channel 94 on Sirius, but a unique station created exclusively for the web.