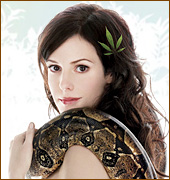 I couldn't have been happier Monday night when I heard
The Great Lake Swimmers
Your Rocky Spine
over the closing credits for
Weeds
.
Ongiara
is a great record, and the band truly deserves the recognition (and the cash).
In other Great Lake Swimmers news, I'm also happy to report that the band just released a free 5-song live EP from their sold-out show at Toronto's Church of the Redeemer. You can download the whole thing here.
Here's the EP track list:
1. Moving Pictures Silent Films (Live)
2. Various Stages (Live)
3. I Am Part Of A Large Family (Live)
4. Put There By The Land (Live)
5. There Is A Light (Live)
And finally, after finishing up the North American leg of their Ongiara tour, the band will head over to Europe to plug the new record a little more with Jose Gonzalez and Will Johnson in tow. Then, if that wasn't enough, in December Tony and his bandmates will make their triumphant to return to Canada to play three shows with Apple pitch person Leslie Feist.
I've listed the new tour dates after the jump (you can find all the previously listed North American dates here). In case you forgot, Great Lake Swimmers will be in NYC at the Highline Ballroom on October 2.

Great Lake Swimmers Tour Dates
Nov 16 Zwolle NL Hedon *
Nov 17 Den Haag NL Paard van Troje *
Nov 18 Brussel B AB * ^
Nov 20 London UK Monto Waterrats *
Nov 22 Birmingham UK Glee Club *
Nov 23 Manchester UK Friends Meeting House *
Nov 24 Newcastle Upon Tyne UK The Cluny *
Nov 25 York UK Fibbers *
Nov 26 Glasgow UK Admiral Bar *
Nov 27 Hull UK The Adelphi Club *
Nov 29 Brugge B Cactus *
* with Will Johnson / ^ with Jose Gonzalez
Dec 3 Hamilton, Canada Hamilton Place Theatre +
Dec 4 Kitchener, Canada Centre In The Square +
Dec 5 London, Canada Centennial Hall +
+ with Feist