Arthur & Yu @ Highline Ballroom (10/02/07)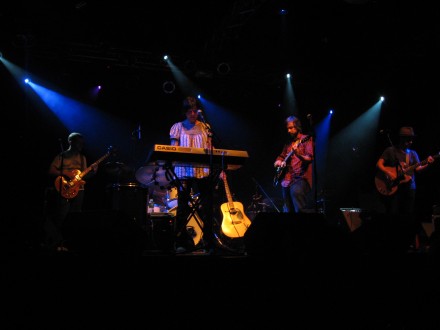 These guys are really having an incredible string of luck, (as far as I'm concerned), first they open for Great Lake Swimmers, then Iron and Wine, now Kevin Drew and Broken Social Scene. Big props to their agent, that is some serious talent they are supporting, and they of course, are not too shabby themselves.
All Arthur & Yu tour dates after the jump.
Arthur & Yu Tour Dates
01/Nov/07 Fox Theatre (Kevin Drew and BSS) Boulder, CO
03/Nov/07 Metro (Kevin Drew and BSS) Chicago, IL
04/Nov/07 The Vogue (Kevin Drew and BSS) Indianapolis, IL
05/Nov/07 The Canopy Club (Kevin Drew and BSS) Urbana
06/Nov/07 The Michigan Theater (Kevin Drew and BSS) Ann Arbor, MI
08/Nov/07 Town Ballroom (Kevin Drew and BSS) Buffalo, NY
09/Nov/07 House of Blues (Kevin Drew and BSS) Cleveland, OH
10/Nov/07 Carnegie Mellon University (Kevin Drew and BSS) Pittsburgh, PA
12/Nov/07 Ira Allen Chapel (Kevin Drew and BSS) Burlington, MA
13/Nov/07 Paradise Rock Club (Kevin Drew and BSS) Boston, MA
14/Nov/07 Webster Hall (Kevin Drew and BSS) New York, NY
16/Nov/07 Sonar (Kevin Drew and BSS) Baltimore, MD
17/Nov/07 Fillmore at the TLA (Kevin Drew and BSS) Philadelphia, PA
01/Dec/07 Neumos (w/ The Thermals) Seattle, WA
04/Dec/07 Mt. Baker Theater (w/ Iron & Wine) Bellingham, WA
06/Dec/07 Egyptian Theater (w/ Iron & Wine) Boise, ID
07/Dec/07 The Great Saltair (w/ Iron & Wine) Magna, UT
08/Dec/07 Paramount Theater (w/ Iron & Wine) Denver, CO
09/Dec/07 El Rey (w/ Iron & Wine) Albuquerque, NM
10/Dec/07 Palladium Ballroom (w/ Iron & Wine) Dallas, TX
11/Dec/07 La Zona Rosa (w/ Iron & Wine) Austin, TX