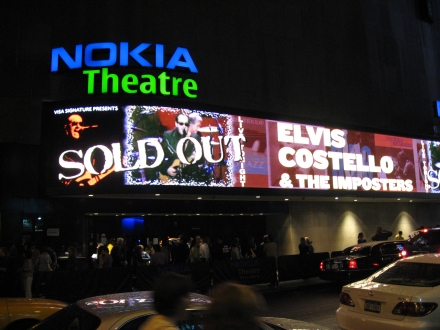 Bad news for the Brits, but good news for the rest of us I suppose.
Elvis Costello has indicated that he will never play in England again.

The singer-songwriter who was born in Paddington, London, but who now lives in New York, has said he is not bothered if he plays in the land of his birth ever again.

"I don't care if I ever play in England again," he declared, sighting his appearance at Glastonbury in 2005 as the reason he would not play a rock show in the country again.

Describing the festival set as "fucking dreadful", he said: "That gig made up my mind that I wouldn't come back. I don't get along with it. We lost touch. It's 25 years since I lived there. I don't dig it, they don't dig me."

Costello, however, said he did like the country's music scene, but just felt he was no longer connected to it. [NME.com]
UPDATE: It appears that this quote actually came from an interview in Mojo Magazine. There is also a longer article about it in The Indepedent, which can be found here.