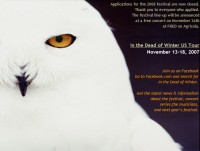 A bunch of Canadian musicians, who aren't quite household names yet, are invading The Living Room tonight (Nov. 14). The show is part of a promotional tour for the upcoming In The Dead of Winter Festival which will be taking place in Halifax, NS on January 29 – February 2, 2008. Tonight's show sounds like a lot of fun and I would probably go, (despite the fact that Jim Bryson never responded to any of my emails after The Weakerthans show), if it didn't conflict with another big Canadian show going on at the same time.
Here are the set times and artists:
7:00 Old Man Luedecke and David Myles
8:15 Catherine MacLellan and Tanya Davis
9:30 Jenn Grant and Royal Wood
10:45 Jim Bryson and Jill Barber
($10 all night, buy now)
Jill Barber will be playing again tomorrow night at Union Hall in support of Tiny Vipers.
Press release after the jump.
In The Dead of Winter
Celebrating the diversity of acoustic music, In The Dead of the Winter tour- which is an extension of an annual festival that takes place in Halifax, NS each year, features some of the best up-and-coming Canadian songwriters, and promises to be a night filled with hauntingly beautiful vocals, poignant storytelling, soul-inspired horns, and traditional roots music. Organized by a small group of musicians and event producers, the goal of this festival is to bring a diverse group of acoustic musicians together to not only perform but to also meet one another in a professional and creative environment. Held annually in Halifax, Nova Scotia, Canada during the month of February, the acoustic based festival celebrates the excellence of musicians by showcasing their talent as well as providing venues for artists who have not yet had the opportunity to perform their music to a wider audience. This is the first time the festival has taken to the road and brought to the U.S. In the Dead of Winter Festival lands in New York @ the Living Room on Wednesday, November 14th @ 8pm, $10.00. [Press Release]