The Hives at Webster Hall (10/09/07)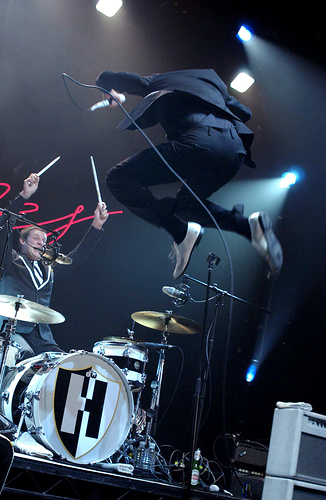 Photo by Abbey Braden
This just in, New York loves The Hives! Just when you thought only 5000 people wanted to see The Hives play live, it turns out that that number is more like 5500! Not being ones to let their fans down, Your New Favourite Band has just added a new date at The Music Hall of Williamsburg on March 6, 2008. Tickets for The Hives show at MHOW are $21 and go on sale on Feb 5 at 12 noon.
In all seriousness though, seeing The Hives at the Music Hall should be much more fun than seeing them at the airplane hangar they call Terminal 5 (and maybe even more fun than Webster Hall where they played last time out).
The Hives new album is called The Black and White Album and it's in stores now. All The Hives tour dates after the jump.
UPDATE 2: A contact at Universal Music confirmed that The Hives will indeed be playing at The Music Hall on March 6.
UPDATE: Commenter Mike claims The Hives will not be playing at The Music Hall but The Donnas will be. I'm looking for some confirmation on that right now.
The Hives Tour Dates
14 Feb 2008 – Monterrey, Mexico UMA Night Club
16 Feb 2008 – Guadalajara, Mexico MX Beat
17 Feb 2008 – Mexico DF, Mexico Salon Vive Cuevo
19 Feb 2008 – Los Angeles, CA The Wiltern
20 Feb 2008 – San Francisco, CA The Fillmore
21 Feb 2008 – Portland, OR Roseland Theater
22 Feb 2008 – Vancouver, BC Commodore Ballroom
23 Feb 2008 – Seattle, WA Showbox SODO
26 Feb 2008 – Denver, CO Ogden Theatre
28 Feb 2008 – Minneapolis, MN First Avenue
29 Feb 2008 – Chicago, IL Riviera Theater
01 Mar 2008 – Columbus, OH Newport Music Hall
02 Mar 2008 – Cleveland, OH Agora Theater
03 Mar 2008 – Toronto, ONT Kool Haus
04 Mar 2008 – Montreal, QC Club Soda
06 Mar 2008 – Brooklyn, NY Music Hall of Williamsburg
07 Mar 2008 – New York, NY Terminal 5
08 Mar 2008 – Washington DC 930 Club
27 Mar 2008 – Saarbruecken, Germany The Garage
28 Mar 2008 – Bremen, Germany Pier 2
29 Mar 2008 – Cologne, Germany WDR Rocknacht
01 Apr 2008 – Budapest, Hungary Petofi Csarnok
02 Apr 2008 – Vienna, Austria Gasometer
03 Apr 2008 – Munich, Germany Tonhalle
04 Apr 2008 – Zurich, Switzerland Xtra
05 Apr 2008 – Milan, Italy Rolling Stone
07 Apr 2008 – Barcelona, Spain Apolo
08 Apr 2008 – Madrid, Spain La Riviera
09 Apr 2008 – Lisboa, Portugal Coliseum
11 Apr 2008 – Bilbao, Spain Santana 27
12 Apr 2008 – Toulouse, France Le Bikini
14 Apr 2008 – Norwich, UK UEA
15 Apr 2008 – New Castle, UK Academy
16 Apr 2008 – Nottingham, UK Rockcity
17 Apr 2008 – Bristol, UK Academy
18 Apr 2008 – London, UK Brixton Academy
19 Apr 2008 – Bourges, France Printempes de Bourges
20 Apr 2008 – Paris, France Le Zenith