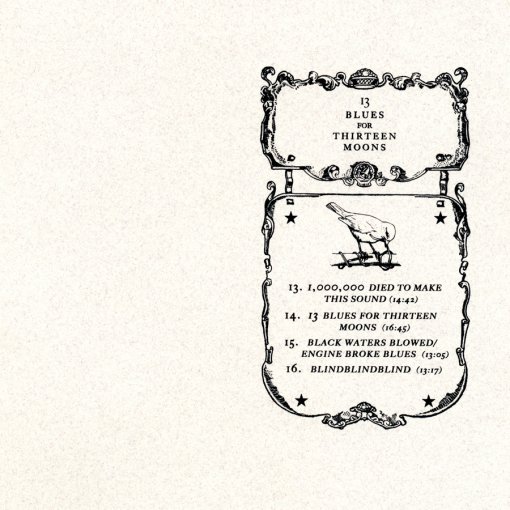 Montreal's Thee Silver Mt. Zion Memorial Orchestra and Tra-La-La Band (a Godspeed You Black Emperor! offshoot involving guitarist Efrim Menuck, violinist Sophie Trudeau and bassist Thierry Amar) is releasing a new record in March and going on a pretty big tour in support of it.
The new album is called 13 Blues For Thirteen Moons and it will be out on Constellation Records on March 10, 2008. (The album is wholly comprised of songs previously debuted at live performances).
13 Blues for 13 Moons Tracklist
13. 1,000,000 Died To Make This Sound
14. 13 Blues For Thirteen Moons
15. Black Waters Blowed/Engine Broke Blues
16. BlindBlindBlind
Duration: 59:10
A Silver Mt. Zion will be making their way to New York (for the third time only) in May for a show at the Bowery Ballroom on May 19 and The Music Hall of Williamsburg of May 20. All ASMTZ tour dates after the jump.
A Silver Mt. Zion Tour Dates
20 MAR 2008 – Montreal, QC – La Tulipe
16 MAY 2008 – Burlington, VT – First Unitarian Univresalist
17 MAY 2008 – Cambridge, MA – Middle East
18 MAY 2008 – Northampton, MA – Pearl Street Nightclub
19 MAY 2008 – Brooklyn, NY – Music Hall Of Williamsburg
20 MAY 2008 – New York, NY – Bowery Ballroom
22 MAY 2008 – Philadelphia, PA – First Unitarian Church
23 MAY 2008 – Washington, DC – Black Cat
24 MAY 2008 – Asheville, NC – Grey Eagle Tavern
25 MAY 2008 – Atlanta, GA – Drunken Unicorn
26 MAY 2008 – Nashville, TN – Mercy Lounge
27 MAY 2008 – St Louis, MO – Bluebird
28 MAY 2008 – Des Moines, IA – Vaudeville Mews
29 MAY 2008 – Minneapolis, MN – Varsity Theater
30 MAY 2008 – Milwaukee, WI – Turner Hall
31 MAY 2008 – Chicago, IL – Logan Square Auditorium
02 JUN 2008 – Detroit, MI – Magic Stick
03 JUN 2008 – Columbus, OH – Skully's Music Diner
04 JUN 2008 – Cleveland, OH – Grog Shop
05 JUN 2008 – Milvale, PA – Mr Small's Theatre
07 JUN 2008 – Toronto, ON – Lee's Palace
08 JUN 2008 – Toronto, ON – Lee's Palace*
* All Ages Matinee 15:00