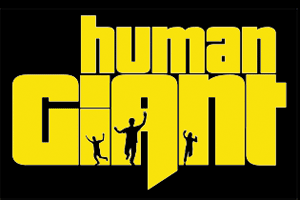 A few days ago, I posted about Season 2 of MTV's Human Giant along with a couple of upcoming live comedy tour dates. Today, the full slate of HG tour dates were announced on their website.
Hey everyone, in celebration of the premiere of our second season March 11th on MTV and our first season being released on DVD – Human Giant will be appearing LIVE across the country. Please join us for a special evening of live comedy and a screening of some new videos from Season 2.
Human Giant Comedy Tour Dates
Feb 18 – Telluride Comedy Festival
Feb 22 – Los Angeles – UCB-LA
Feb 23 – Los Angeles – UCB-LA
Feb 28 – San Francisco – NoisePop Festival @ Mezzanine
Mar 1 – Seattle – The Triple Door
Mar 2 – Portland – Aladdin Theatre
Mar 5 – DC – The Black Cat
Mar 6 – Philadelphia – North Star
Mar 12 – Cambridge, MA – The Middle East
Mar 13 – Brooklyn – Music Hall of Williamsburg
Mar 14 – SXSW Comedy Showcase (more info coming soon!)
Mar 15 – Mess with Texas 2 (more info coming soon!)
Season 2 Premieres March 11th.