They Might Be Giants
My son's favorite band, They Might Be Giants, have a new record coming out Tuesday called Here Come 123s, it's a follow up to their wildly successful alphabetical treatise, Here Come The ABCs. In addition to the slew of tour dates previously announced, they just added two more family shows at The Town Hall on April 20, 2008. All other shows on this tour are all ages matinees, except for Portsmouth, NH which gets an kids show and an adult show. Tickets for TMBG at the Town Hall on sale 02/06 at 10:00 am.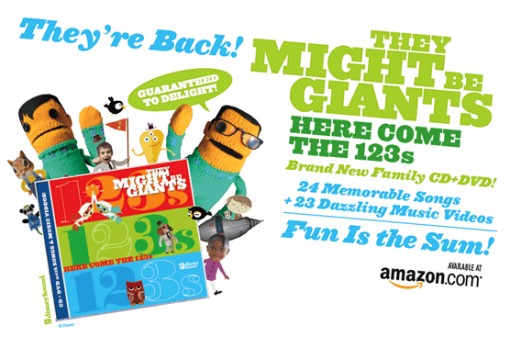 | | |
| --- | --- |
| They Might Be Giants have also launched the "They Might Be Giants Friday Night Video Podcast" in conjunction with the release of "Here Come The 123s". You can subscribe to it over here. | |
All TMBG tour dates after the jump.
They Might Be Giants Tour Dates
02-23-08 3:00 PM Borders Columbus Circle, New York, NY
02-27-08 12:00 PM Beachland Ballroom Cleveland, OH
02-28-08 12:00 PM Bluebird Nightclub Bloomington, IN
02-29-08 12:00 PM Barrymore Theatre Madison, WI
03-01-08 12:00 PM Slowdown Omaha, NE
03-02-08 12:00 PM Bluenote Columbia, MO
03-04-08 12:00 PM House of Blues Dallas, TX
03-05-08 12:00 PM Stubb's Outdoor BBQ Austin, TX
03-06-08 12:00 PM Meridian Houston, TX, TX
03-07-08 12:00 PM House of Blues New Orleans, LA
03-08-08 12:00 PM Hal & Mal's Jackson, MS
03-09-08 12:00 PM Workplay Birmingham, AL
03-11-08 12:00 PM Jannus Landing St. Petersburg, FL
03-12-08 12:00 PM Revolution Ft. Lauderdale, FL
03-13-08 12:00 PM House of Blues Orlando, FL
03-14-08 12:00 PM Free Bird Live Jacksonville, FL
03-15-08 12:00 PM Variety Playhouse (Kids Show) Atlanta, GA
03-16-08 12:00 PM Satellite Ballroom Charlottesville, VI
03-28-08 12:00 PM Somerville Theatre Somerville, MA
03-29-08 2:00 PM The Music Hall for FAMILIES only Portsmouth, NH
03-29-08 8:00 PM The Music Hall, for ADULTS only Portsmouth, NH
03-30-08 12:00 PM Higher Ground Burlington, VT
04-18-08 12:00 PM Big Twig Studio Roscoe, NY
04-20-08 1:00 PM The Town Hall New York, NY
04-20-08 4:00 PM The Town Hall New York, NY