A Kidrocker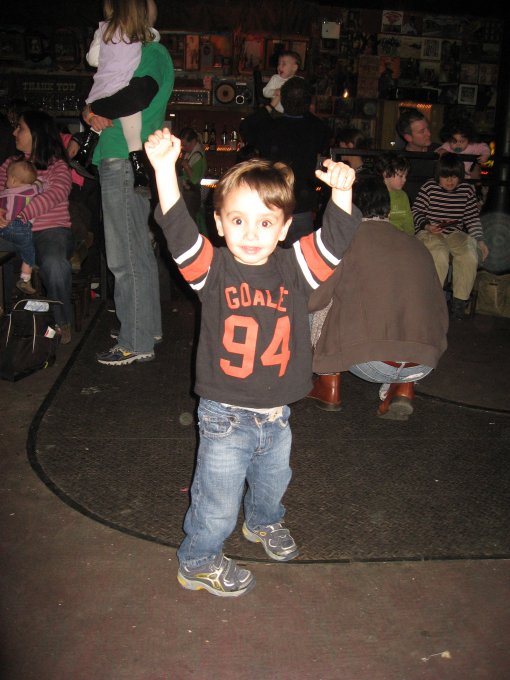 The good news is Ra Ra Riot is playing a show tonight at the Bowery Ballroom, the bad news is (for those that don't have tickets) that the show is sold out. Don't despair though, if you can't get into tonight's show, they've added a special all ages "Kidrockers" show at The Living Room on Sunday, March 9 at 1 PM (tickets $9/$12 at BrownPaperTickets.com) with Levy and hosts Craig Baldo and Seth Herzog. Warning to all (childless) hipsters, adults must be accompanied by children and vice versa at all Kidrockers shows.
On the tour front, Ra Ra Riot have also landed a plumb spot opening for The Cribs on their upcoming spring tour (first Editors, now The Cribs, somebody must think these guys go well with Brit Rock). Below you will find RRR's full SXSW schedule along with a bunch of new tour dates (including a return NYC area date at Maxwell's in April).
UPDATED: Now with more tour dates with The Little Ones.
Ra Ra Riot's 2008 Spring Tour Schedule
03.06.08: Scranton, PA // The Bog
03.07.08: New York, NY // Bowery Ballroom #*
03.12.08: Austin, TX // Austin Convention Center 5 PM
03.12.08: Austin, TX // Showpaper Patio Party @ Ms. Bea's 9:30 PM
03.13.08: Austin, TX // Emo's 1:55 PM
03.14.08: Austin, TX // Emo's Annex 2:30 PM
03.15.08 Austin, TX // Diesel Party @ Saengerrunde Hall 8:50pm
03.15.08 Austin, TX // Park the Van/Daytrotter Party @ Emos Annex, 10pm
03.17.08: Athens, GA // 40 Watt Club %
03.18.08: Greenville, NC // The Spazzatorium Galleria
03.19.08: Washington, DC // Black Cat %
03.22.08: Philadelphia, PA // North Star %
03.23.08: Cleveland, OH // Grog Shop %
03.24.08: Bowling Green, OH // Howards
03.25.08: Chicago, IL // Double Door %
03.26.08: Minneapolis, MN // Varsity Theatre %
03.28.08: Denver, CO // Larimer Lounge
03.31.08: Seattle, Washington // Chop Suey %
04.02.08: Portland, OR // Doug Fir %
04.03.08: San Francisco, CA // Popscene %
04.04.08: Los Angeles, CA // El Rey Theatre %
04/05/08 San Diego, CA // The Casbah *
04/06/08 Phoenix, AZ // Modified *
04/09/08 Norman, OK // Opolis *
04/10/08 Ft. Worth, TX // Lola's *
04/11/08 Austin, TX // Stubb's *
04/12/08 Baton Rouge, LA // Spanish Moon *
04/13/08 Atlanta, GA // TBA *
04/14/08 Orlando, FL // The Social *
04/15/08 Gainesville, FL // Common Grounds *
04/16/08 Jacksonville, FL // Jaxx *
04/18/08 Charleston, SC // Map Room *
04/20/08 Chapel Hill, NC // Local 506 *
04/22/08 Baltimore, MD // Ottobar *
04/23/08: Hoboken, NJ // Maxwell's *
04/25/08: Cambridge, MA // Middle East Downstairs *
04/28/08: Pittsburgh, PA // Garfield Artworks *
04/29/08: Columbus, OH // The Basement *
04/30/08: Cincinnati, OH // The Gypsy Hut *
05/02/08: Toledo, OH // Frankie's *
05/03/08: Detroit, MI // Alvin's *
05/04/08: Milwaukee, WI // TBA *
05/07/08: Omaha, NE // Slowdown *
05/08/08: Lawrence, KS // Jackpot Saloon *
05/10/08: Salt Lake City, UT // Kilby Court *
05/16/08: Pomona, CA // Glass House *